This is rather ideal for me, because I was eight years old in 1997 when it came out, and can actually remember playing bits of it for the first time. Thus, Kid!Me will be popping in occasionally to give her input. :)
Also, as this series is close to my heart, expect a lot of fawning and random ranting on history and facts you don't really need to know about but that I find incredibly interesting. :D
I HOPE YOU GUYS LIKE THIS!
Welcome to the Curse of Monkey Island! This has two difficulty levels, and as a kid I always played the easy one, but today we're gonna do the harder level.
When you choose one, a dagger appears in the box you chose, but I missed capping that because it cuts away so quickly. xD
Parody of THX, right nextdoor to LucasArts back when it was still called LucasFilms Games. Right down to the overload sound and added screaming monkeys. :D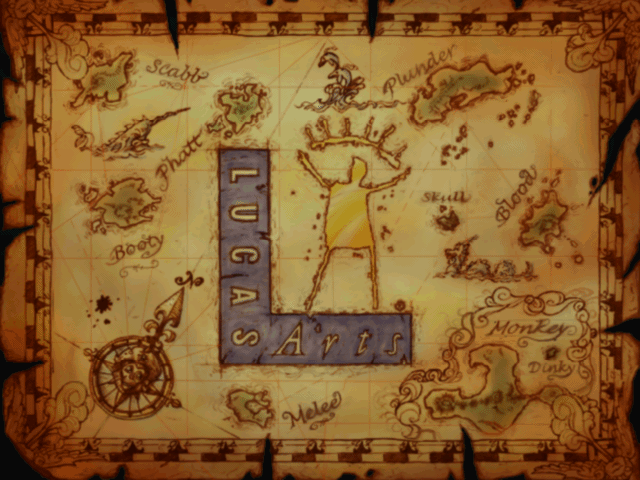 Kid!Me: Oh wow! That's what the place they live in looks like? I can see Melee Island! And there's Monkey Island itself! And what are all these other-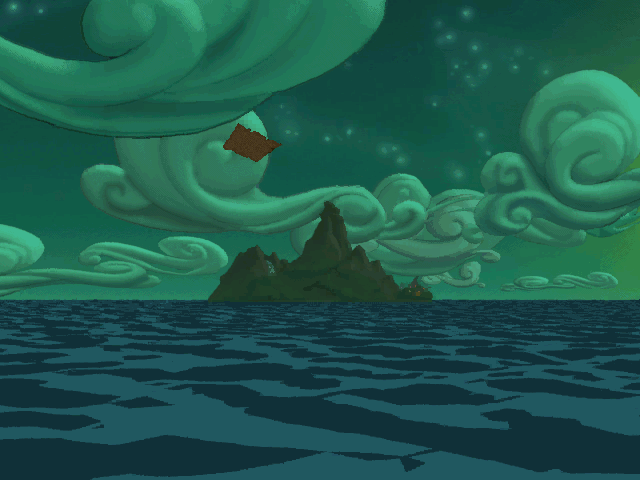 Kid!Me: Oh, it's flown off. Awesome, an island!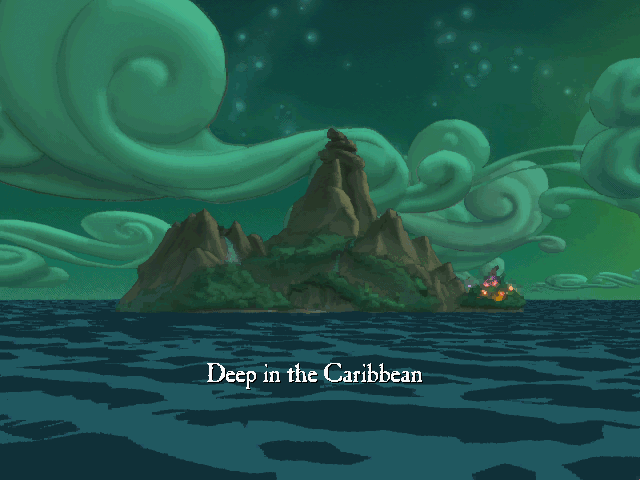 The immortal line that opened SMI and MI2, and which also opens EMI and TMI, makes its reappearance.
Kid!Me: ... It looks different to how it did in Secret. But cool! It looks way better now! And why are there lights on the side?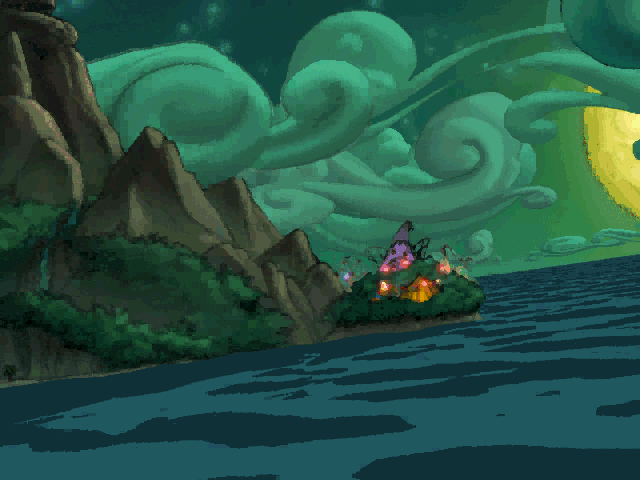 The camera, having been slowly zooming on the titular island of the series, suddenly swerves and flies past at high speed...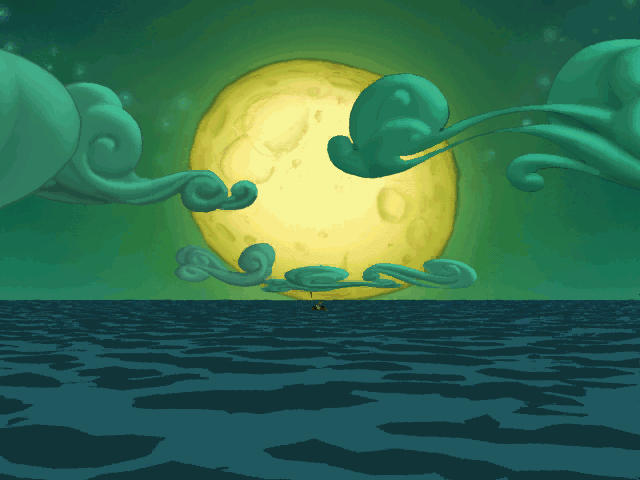 ... oh look, what's that in the distance? Probably nothing.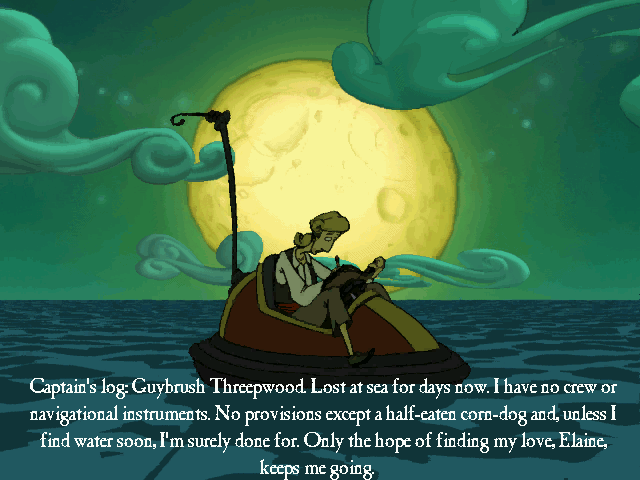 Oh, it is something.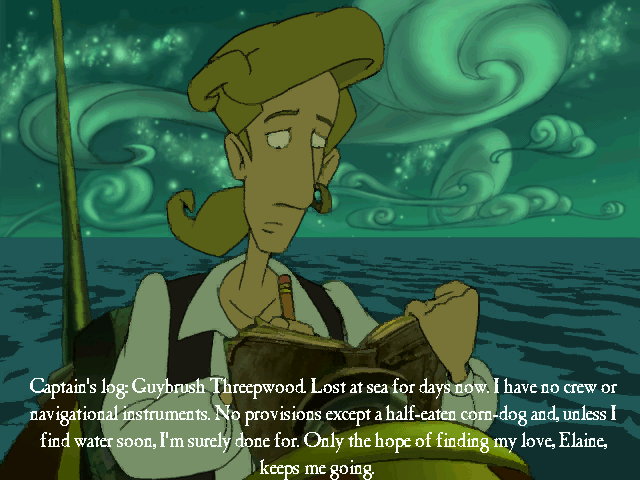 This is our hero, Guybrush Threepwood, voiced by the absolutely lovely Dominic Armato. No, you probably don't recognise his name. :)
Just a note, in the cutscenes huge blocks of text appear in the subtitles at once, sometimes with up to three different shots for each one, so expect to see each block of text at least twice.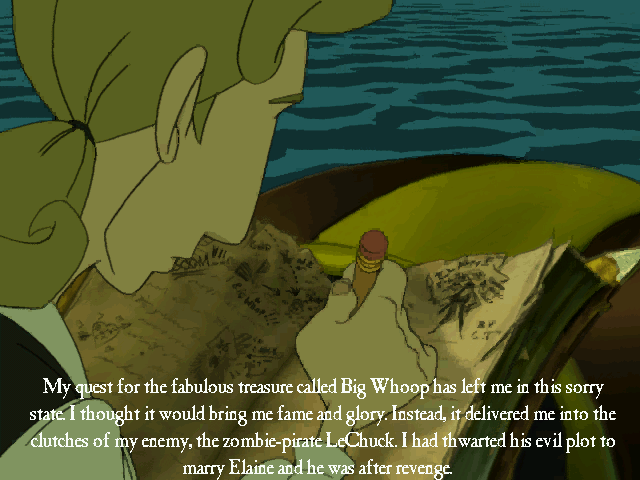 Kid!Me: Awesomecoolawesome! It's Guybrush! And he's talking! He sounds awesome! :D I can't wait to replay Secret now I know what he sounds like! :D
(and only earlier this year the special edition came out to make that a reality! :D)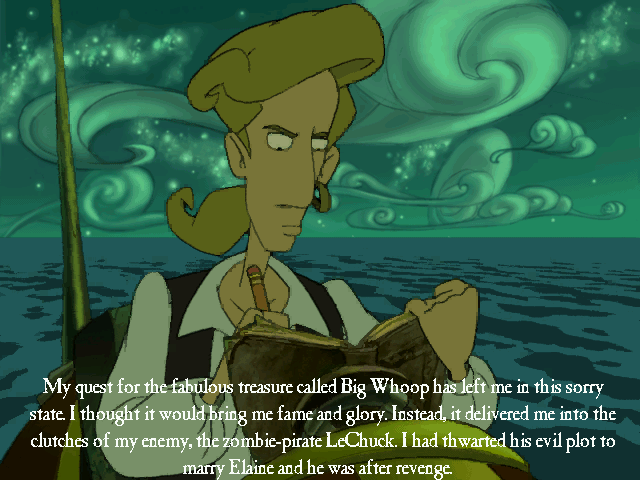 Guybrush frowns as he contemplates his arch-enemy, the Ghost/Zombie Pirate LeChuck. This recap was good for us as kids, because we'd accidently completely skipped over the second game and knew full well we'd missed a chunk of the story so far. LeChuck coming back as a zombie was new to us.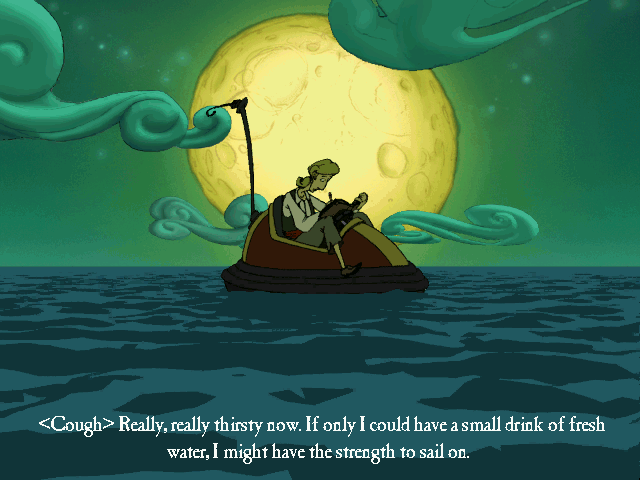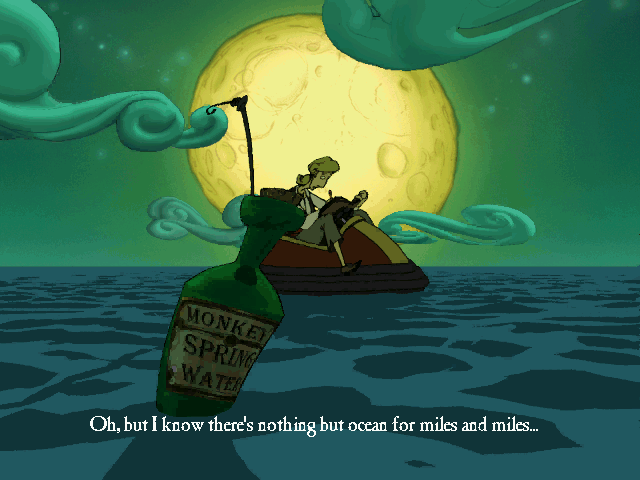 The bottle of water floats by just as Guybrush finishes the previous sentence. This made us crack up as kids. :D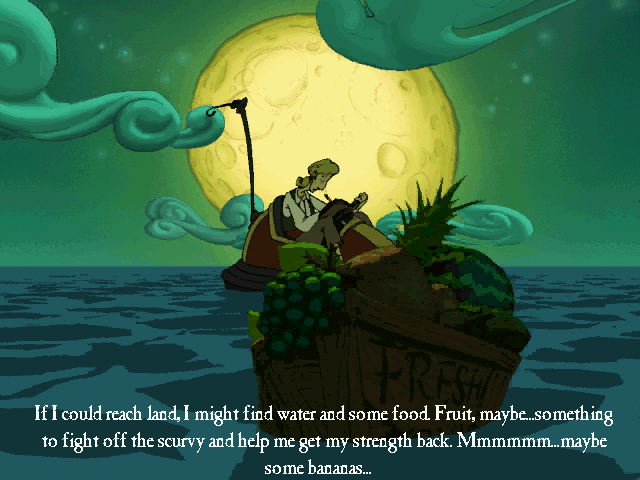 ... Hey Guybrush, would you look up for a second?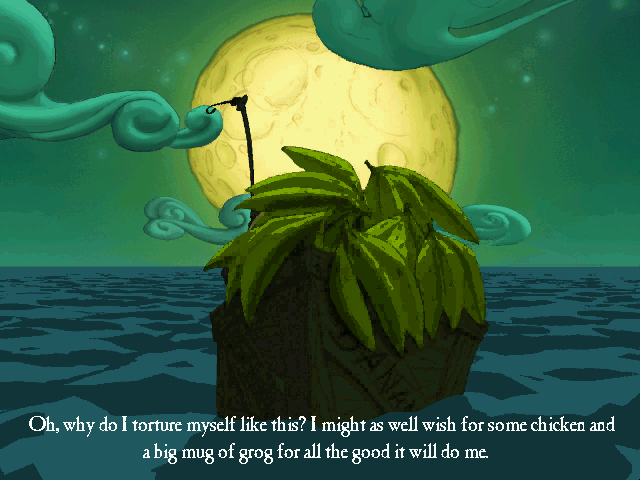 C'mon, just glance to your right!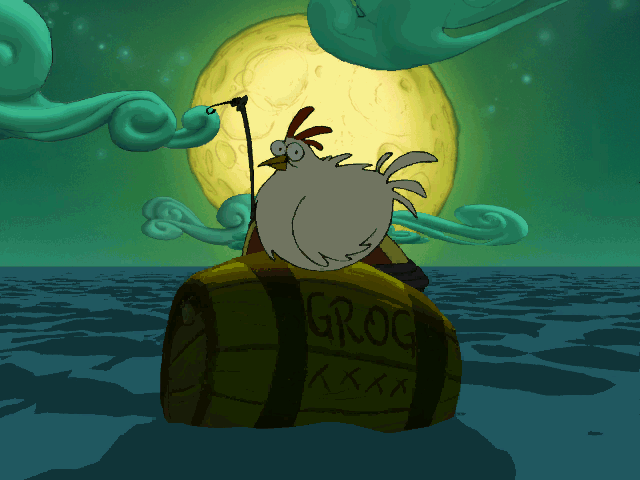 EVEN LOOKING STRAIGHT AHEAD WOULD DO, THREEPWOOD!
The chicken even clucks as it floats past, and Guybrush is still too absorbed in self-pity to hear. xD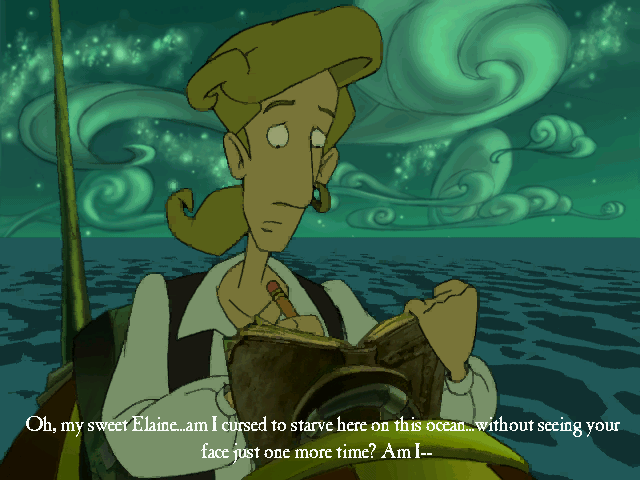 Any pining over his lady-love is cut short by sudden cannon-fire...
... FINALLY dragging Guybrush's attention to a sea-battle he happens to have completely randomly drifted into.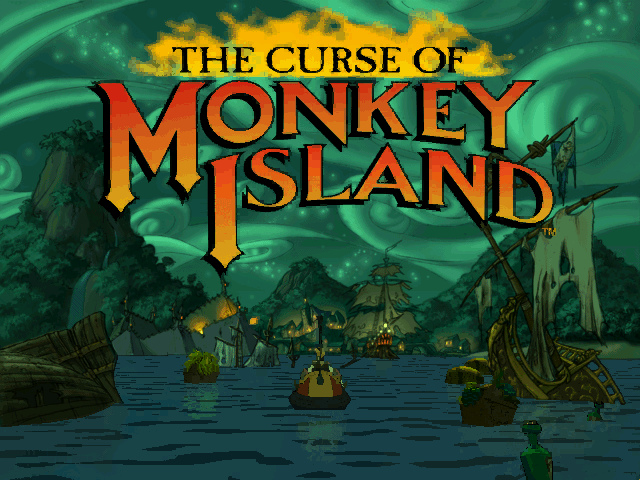 I can't really convey the awesomeness of this logo with a screenshot. As the 'Monkey Island' bit appears, there is a roar from LeChuck and the fire springs up with 'The Curse of' just as the familiar series theme starts up!
Kid!Me: *spasms in glee*
Yeah, it's the credits. These are nice pictures by a nice guy called Bill Tiller, so I'm going to show you some of them. Don't worry, I won't show you every single credit, only ones I can comment on.
Kid!Me: Oh, so the guy who voices Guybrush is called Dominic Armato. I must remember that and look out for him! I wanna know more about what he does!
Yeah, Dom was a household name for me back in '97. I never did see his name in any other credits, because I think Monkey Island was probably the biggest gig he ever got. And no-one really wants it any other way. :D
Bill Tiller, background artist. He (probably) drew all these pictures. ADMIRE THEM.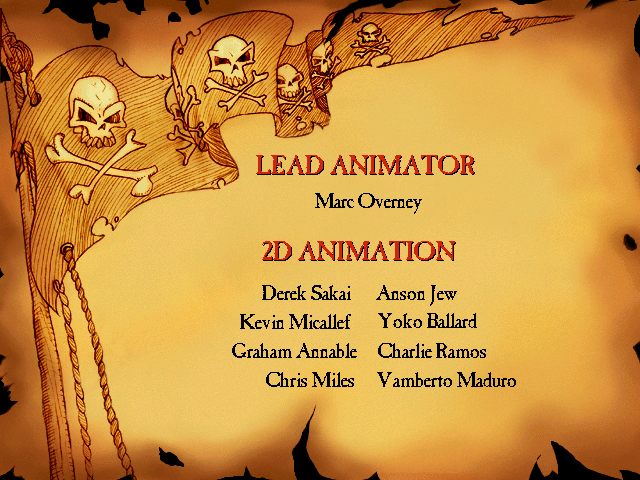 The original idea for these credits was actually to repeat the appearance of the credits from MI2, until someone higher up stamped their foot and cried "I do not want all this black space on the screen!" So they extended the pictures to cover (almost) the whole screen.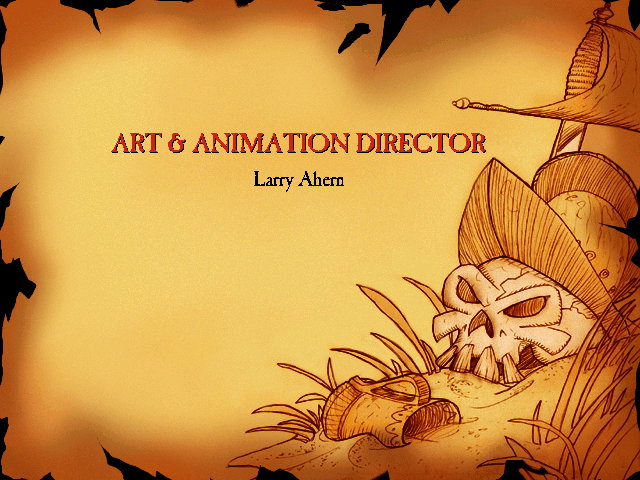 [TMI injoke] Murray? [/TMI injoke]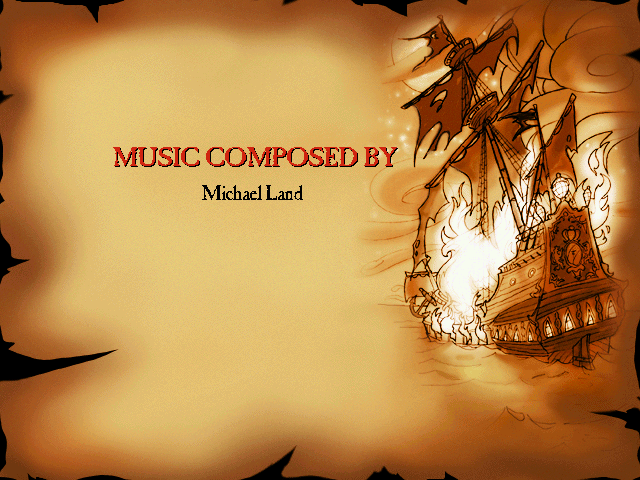 With some of these, you can really tell where the cut-off was originally. Like the map in the first picture, and the burning ship here. Clearly they weren't going to bother extending that background art across the whole screen.
Also, Michael Land, resident composer of the series. You guys are really missing out if you've never heard his music.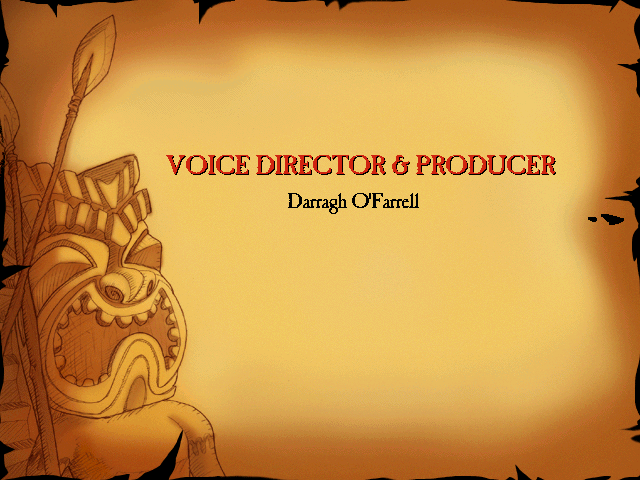 From interviews with Mr Armato, apparently this Darragh was a nice guy. And also the bringer of good news vis-a-vis SMI: Special Edition.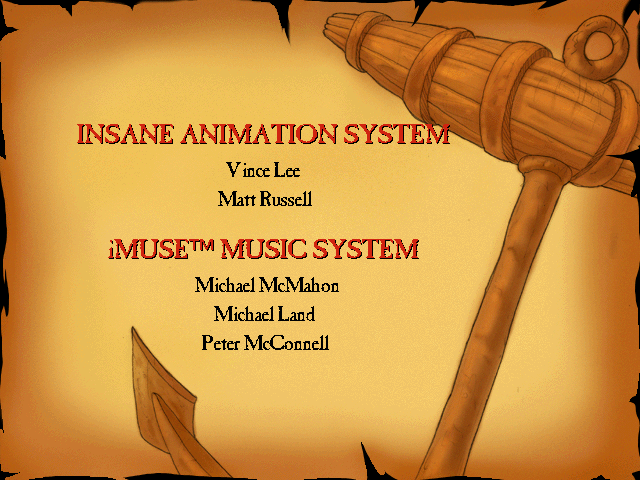 I THINK "INSANE" IS A NICE NAME FOR AN ANIMATION SYSTEM, DON'T YOU?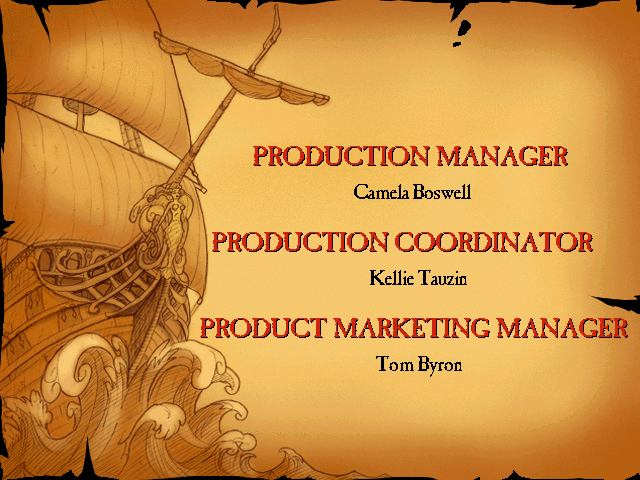 This background actually has a nice story behind it. Originally it was a mermaid just waving to a passing ship, but, again, someone higher up stamped their foot and said "Mermaids don't belong in Monkey Island! Take it out!"
...
So, anyone played TMI chapter 2 here? :D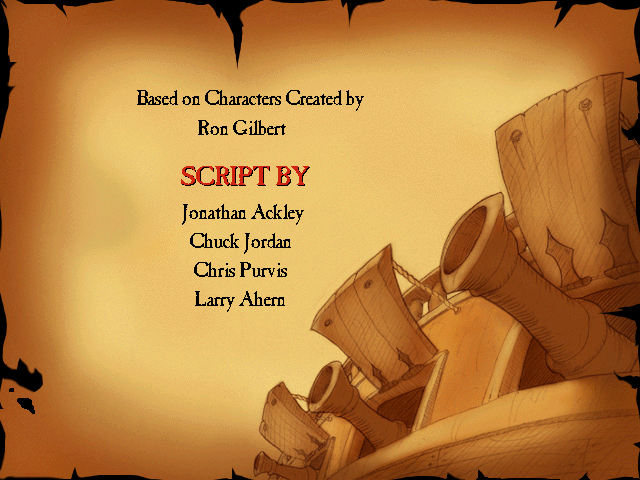 Ron Gilbert was the original creator of the first two games, and had left the company by this point. Nowadays he's known as the Grumpy Gamer. :D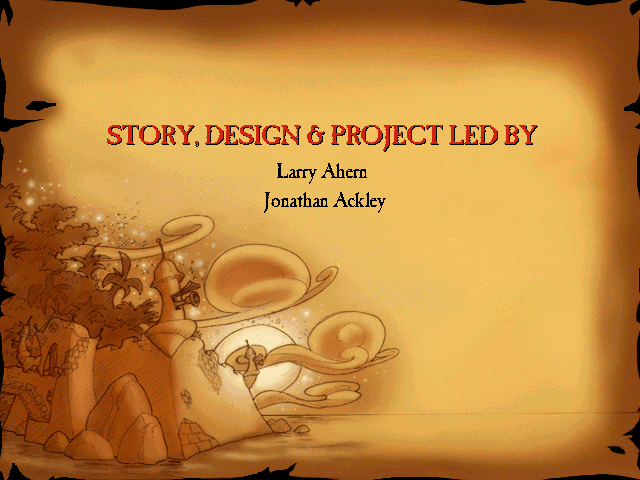 Once this credit pops up, the music swells to a crescendo, the black bit slowly fade into a greenish sky, and then suddenly-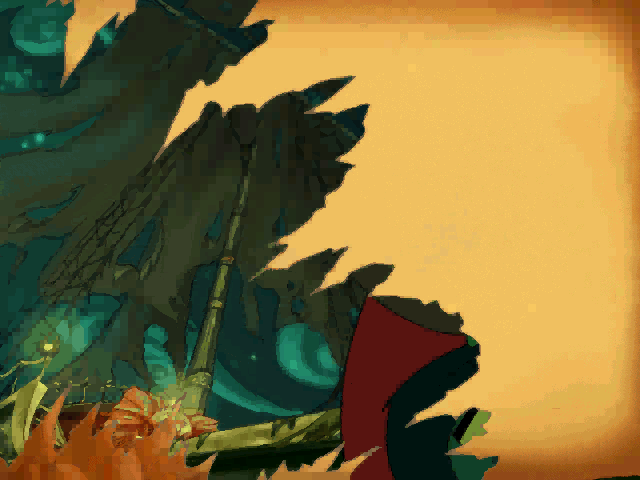 WOAH WHERE'D MY CREDITS GO?
Kid!Me: Finally! The credits are over!
... I had no appreciation for music as a child. xD Could never sit still for either SMI or CMI's opening credits.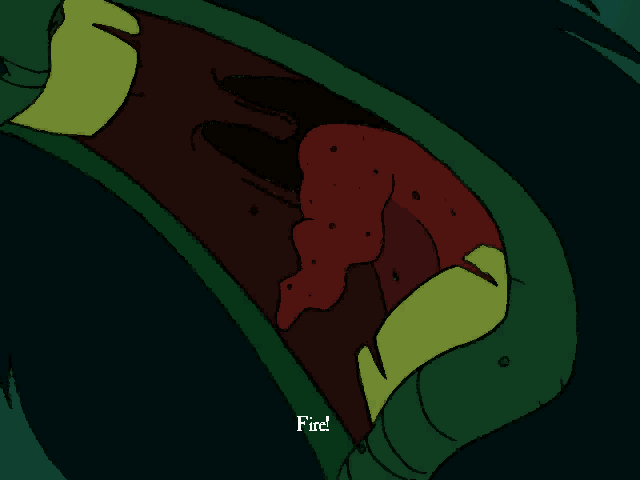 SCARY CLOSEUP OF LECHUCK'S TEETH.
Now I need a bath. A zombie just breathed on me.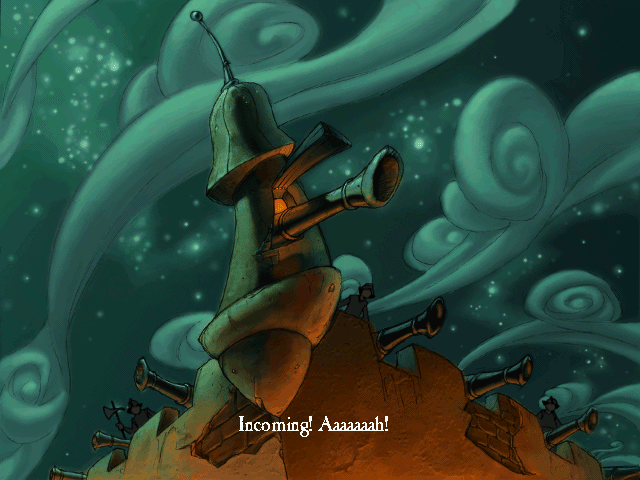 These guards are funny to watch. They stand there for several seconds as the cannonball approaches, point at it, and THEN decide to run off.
Nice guys you recruited, defender-of-the-fort. xD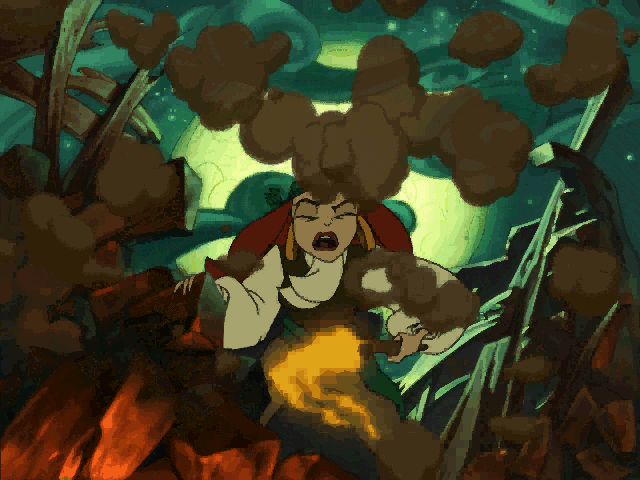 The screen fills up with smoke once the cannonball hits, and it is waved away by the flaming torch of our heroine.
How did I manage to get two shots in a row of Elaine with her eyes closed?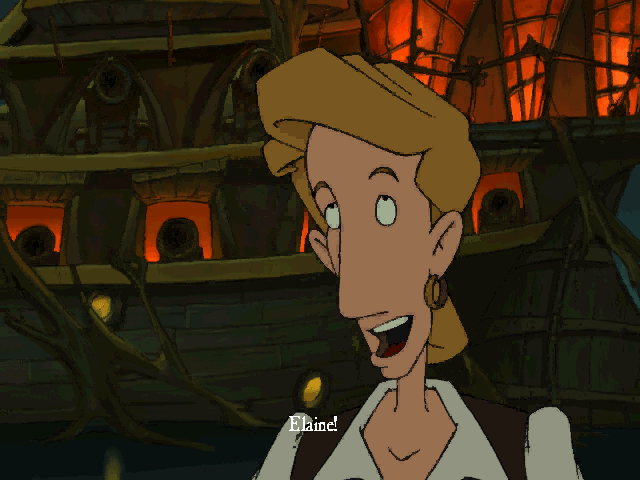 Guybrush squints for a moment before suddenly recognising his former girlfriend.
Adult!Me: *sighs dreamily*
Kid!Me: Oh, it's Elaine! I guess they got seperated in the second game.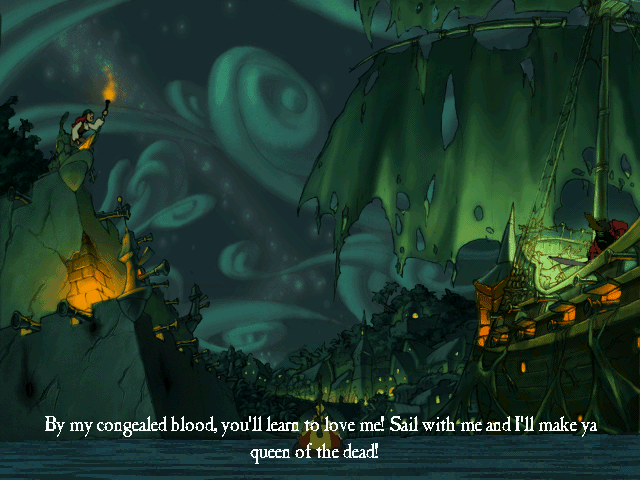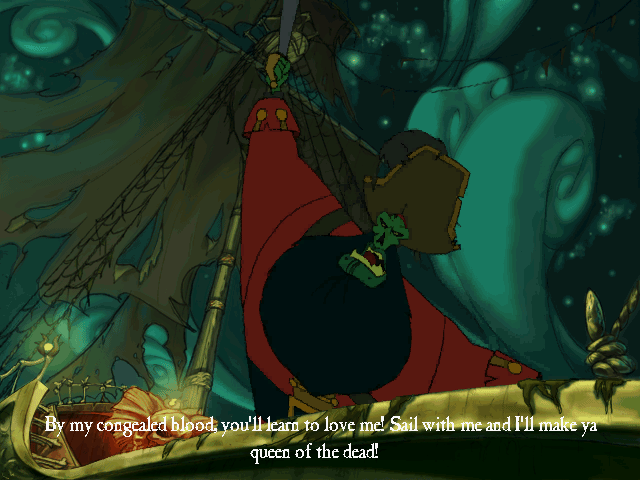 LeChuck waves his arms around a lot as he talks. I've tried to capture his best poses, but it really works best when it moves. :)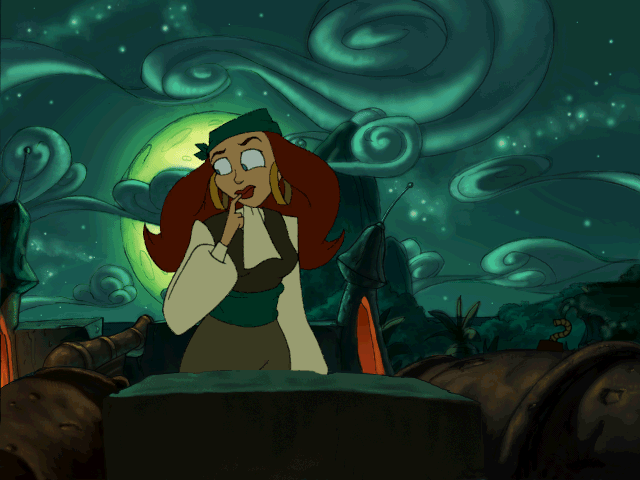 "HMM. MAYBE I SHOULD RECONSIDER..."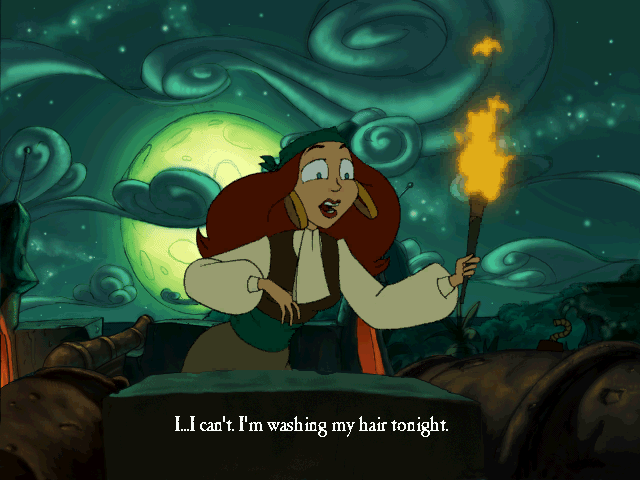 The universal way of saying "I just don't like you!" :D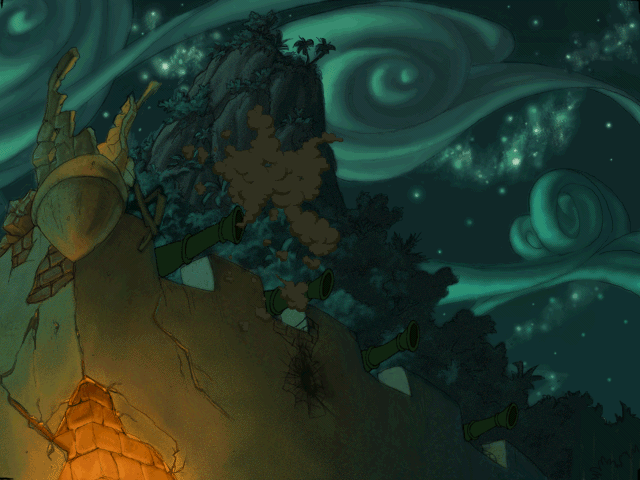 Especially when followed by firing the cannon next to you.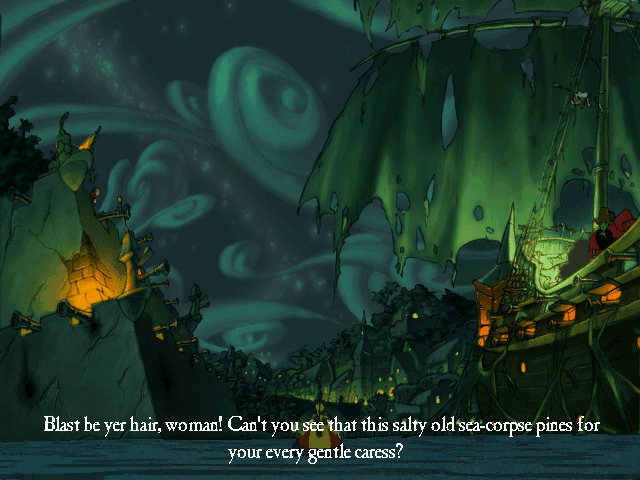 Again, LeChuck waves his arms a lot. I tried to grab his final pose where he almost begs Elaine to go with him.
He also fires his cannon when he's done. They ARE in a sea-battle after all. :D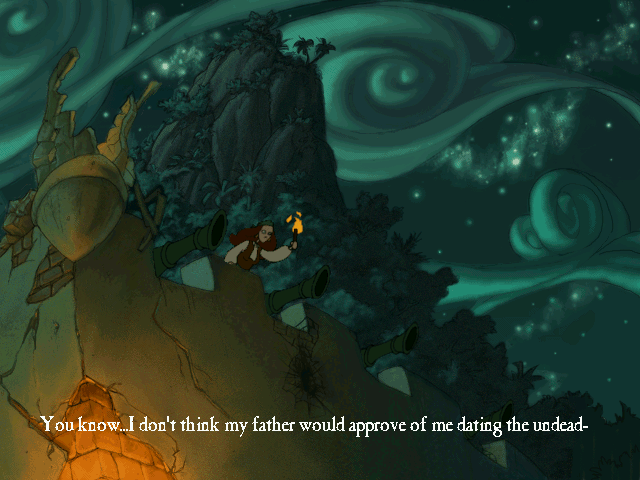 Elaine fires off a volley of excuses while one-by-one firing the cannons on the walls of her fort.
This mention of her father is a reference to SMI, too. She said the same about pirates to discourage any suitors.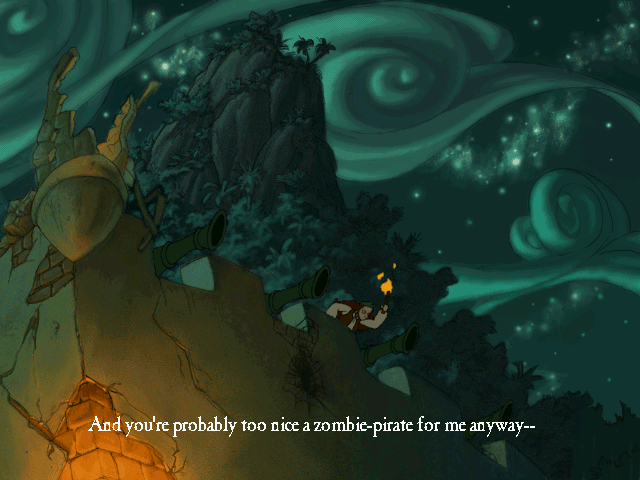 Kid!Me: LOLOLOL.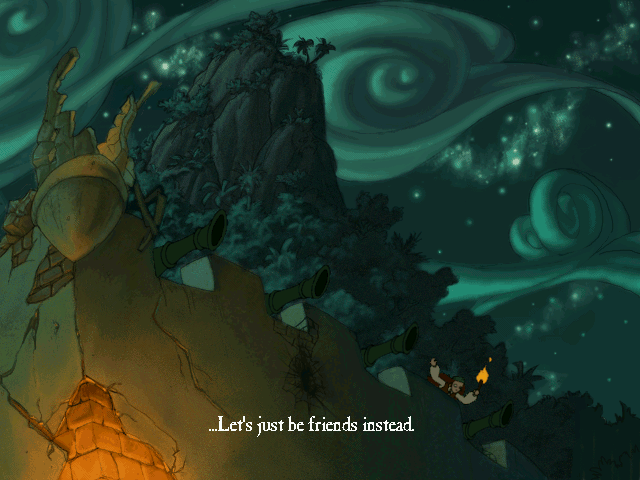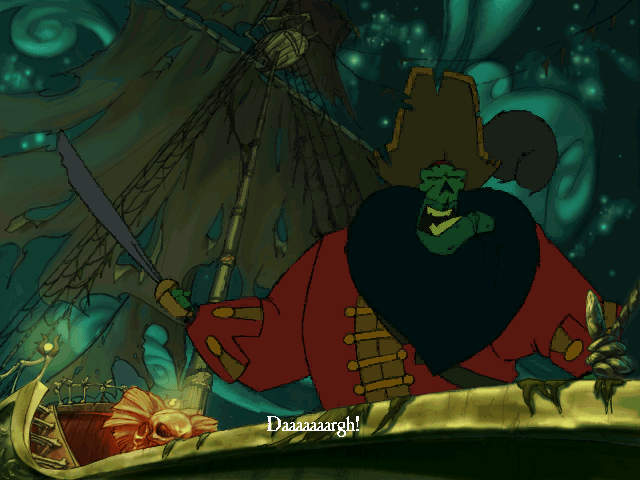 DOES NOT COMPUTE
Rather unflattering shot of Elaine here. At least she has her eyes open.
POINTY FINGER OF DOOM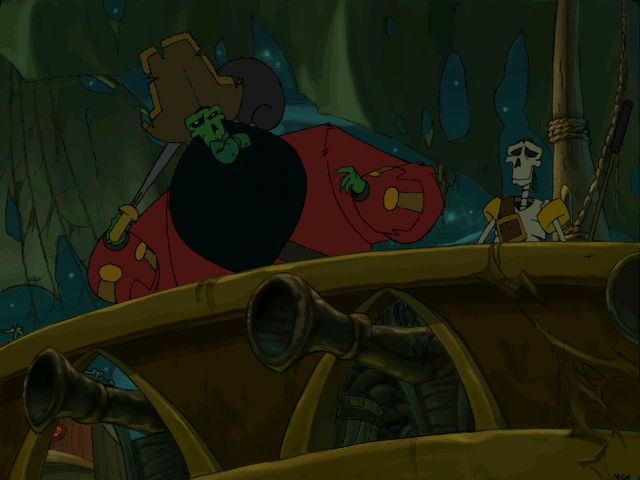 Kid!Me: LOLOL LeChuck is soooo stupid! :D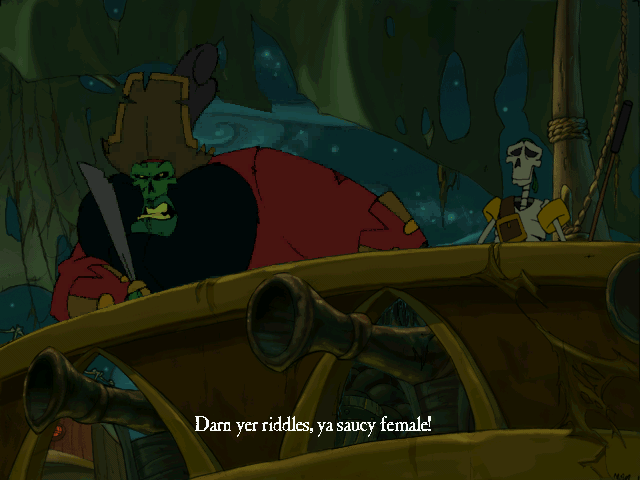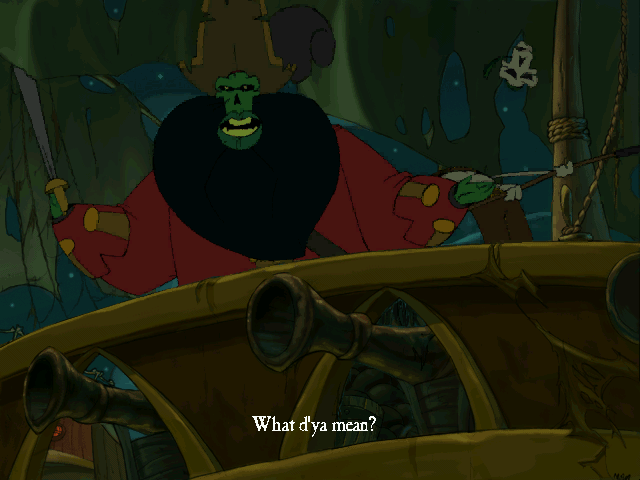 SPEAK PLAIN ENGLISH, WOMAN
Poor skeleton worker in the back there. He's just standing around, minding his own business when suddenly his captain whacks him in the neck and decapitates him.
But as he is undead, he is mostly unhurt. He lands on his side though.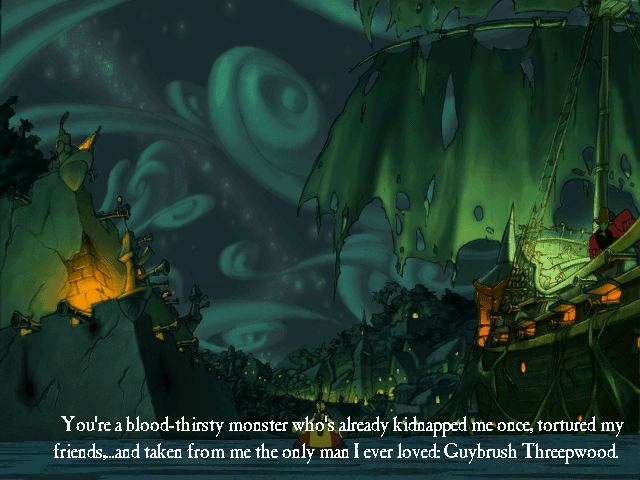 FFFFFFFFFFFFFFFFFFFFFFFF
I tried to get a shot of Elaine's sad look when she mentions Guybrush, but missed it a bit.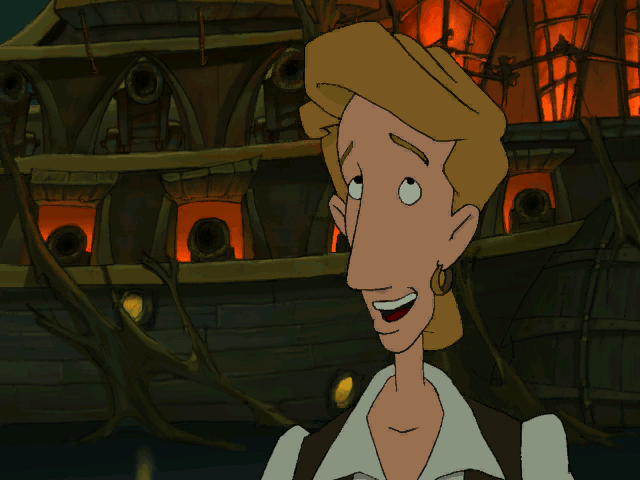 Guybrush sighs dreamily. "She doesn't hate me!"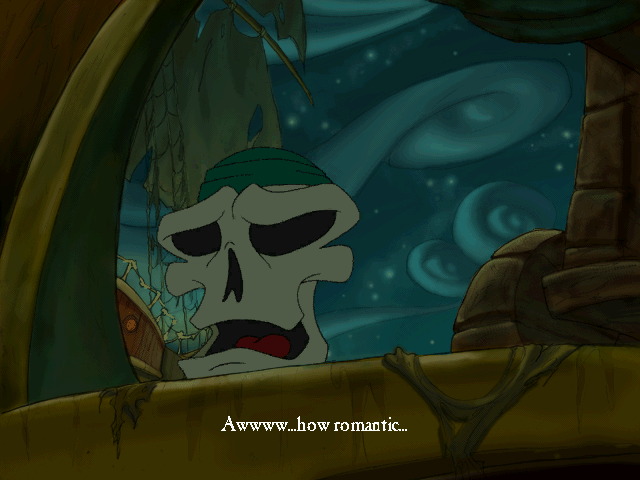 Kid!Me: No it's not! It's not romantic! Romantic is icky!
Adult!Me: *sighs dreamily*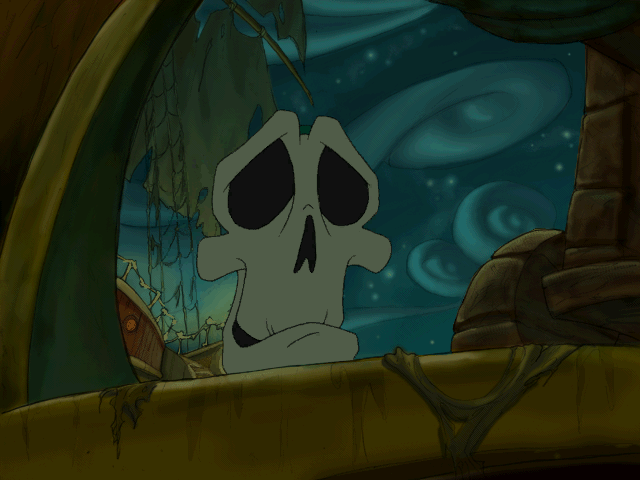 WHAT'S THAT I SPY
BEGINNING WITH AN S
WHAT'S THE WORD AGAIN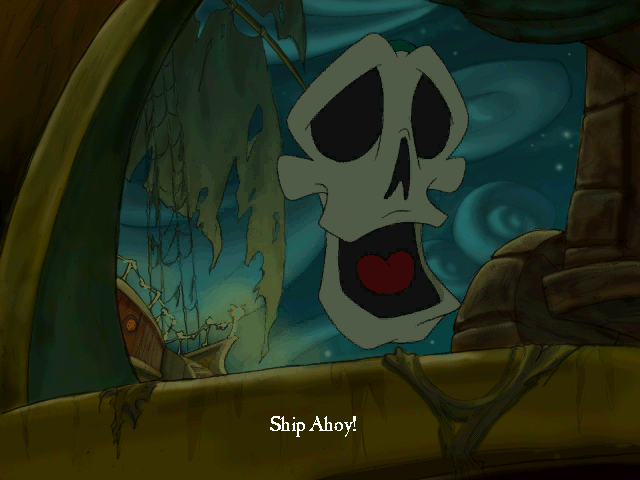 Y'know, I always wondered where exactly this guy landed, and only noticed on this playthrough that he's sitting next to cannon. xD How did I miss that for twelve years?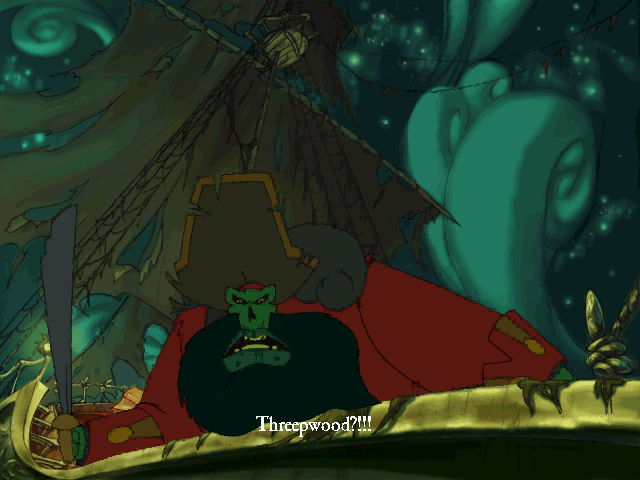 LeChuck looks around a bit before spotting the bumper car in the water.
At least he's getting
Gorbush
Guybrush's name right.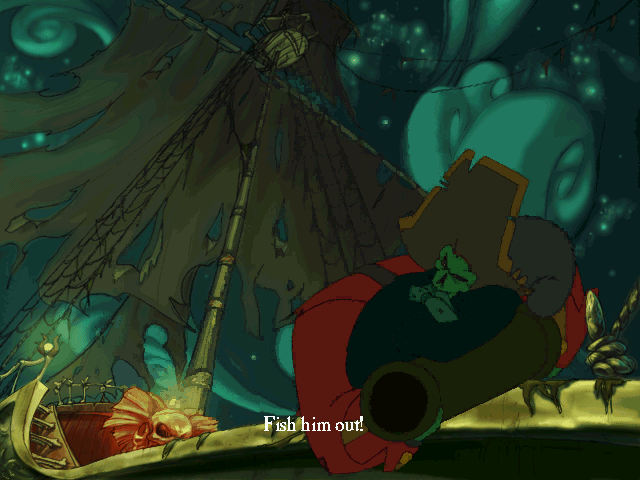 WHY DID HE HAPPEN TO HAVE A MINI-CANNON HANDY. SERIOUSLY, HE PULLS IT OUT FROM THE GROUND. WHERE DID THAT COME FROM.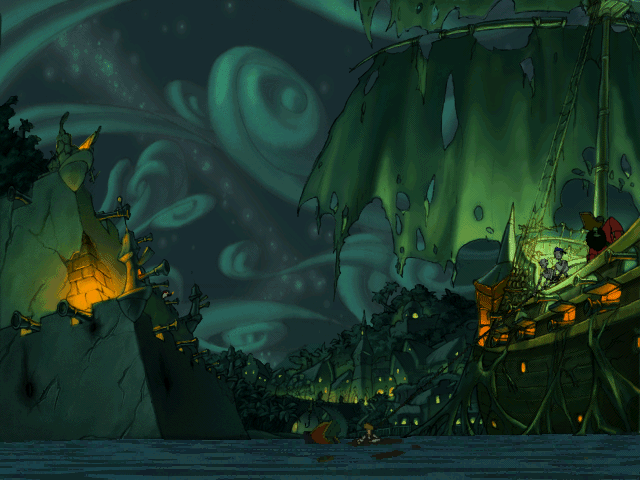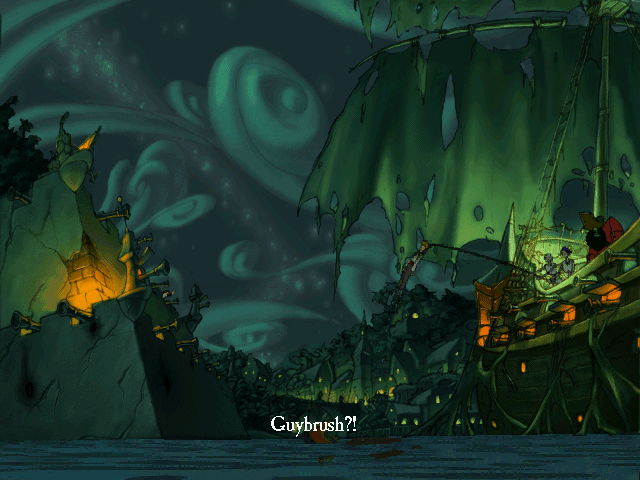 Aw, the bumper car is destroyed! Buh-bye loyal makeshift-boat!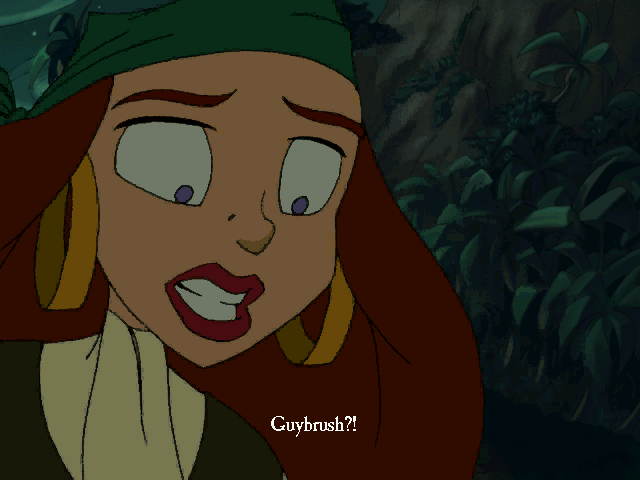 Elaine's rather shocked that Guybrush is actually alive. When she last saw him, he was dangling over a seemingly-bottomless pit with a heavy treasure chest in one hand, and the rope snapped while she was forcing him to sit there and tell her a story. She certainly wasn't regretful then!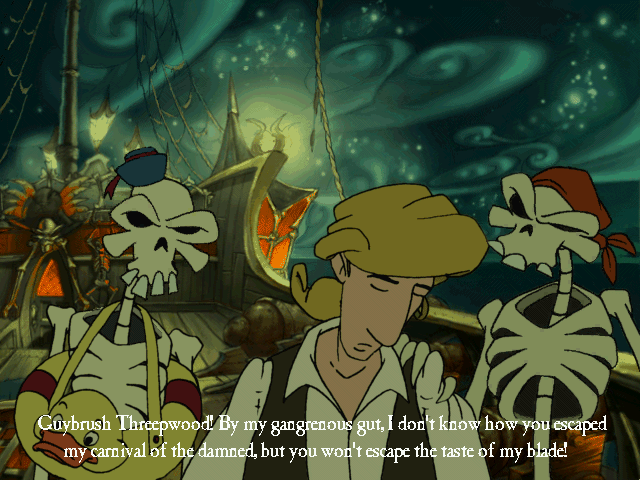 Guybrush is still dazed, but one of the skeletons helpfully nudges him awake to listen to LeChuck's ranting.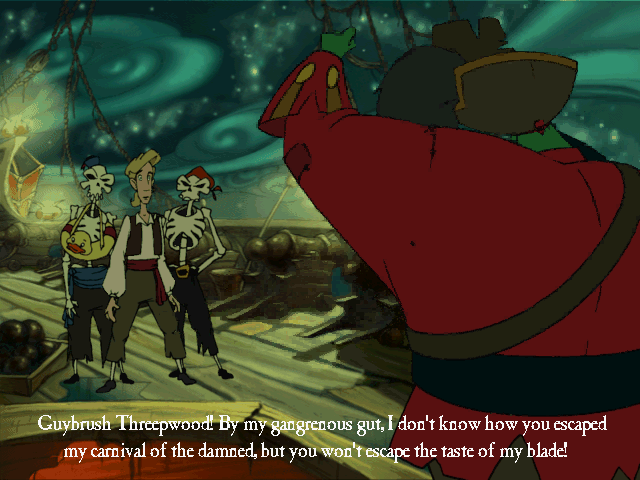 But it's alright, Guybrush didn't miss much. :D LeChuck just likes the sound of his own voice.
He raises his sword rather menacingly, but I was a bit early getting that shot.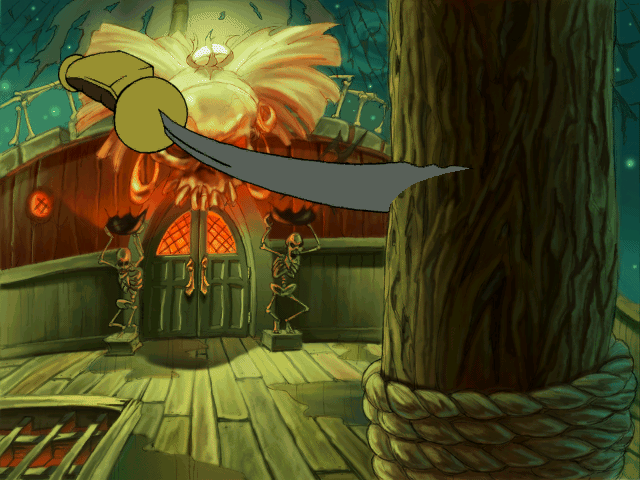 THUD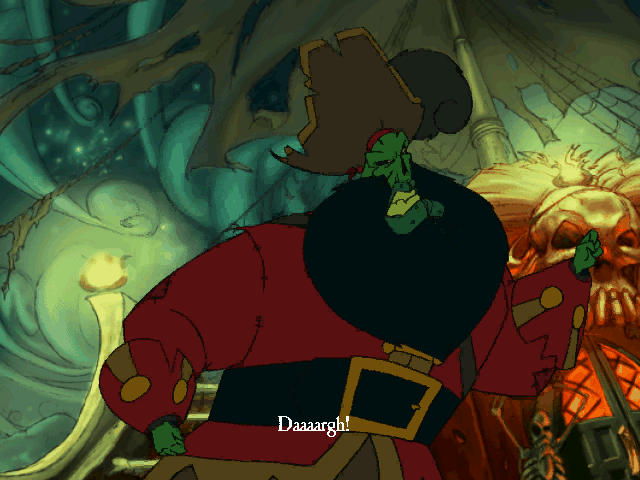 WHERE'D THAT GUNSHOT COME FROM
WHO DARE SHOOTS THE SWORD OF ZOMBIE PIRATE LECHUCK
LeChuck forgot absolutely everything Elaine had just said, didn't he? xD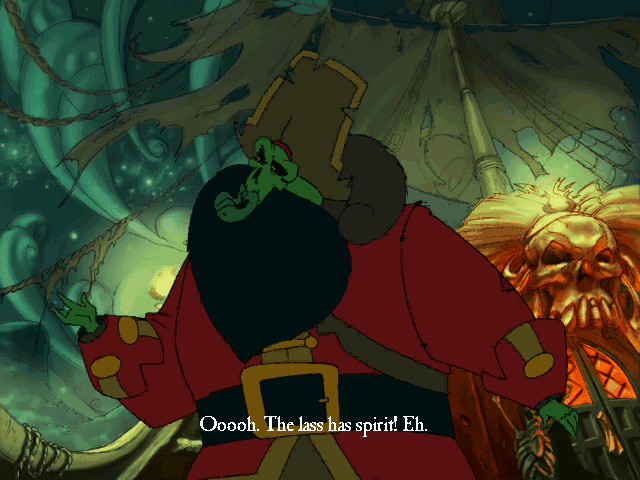 I think the subtitles here do a bad job conveying how the brilliant Earl Boen is saying these lines. It's more like "Ooh, the lass has
spirit
, eh?" and very menacing.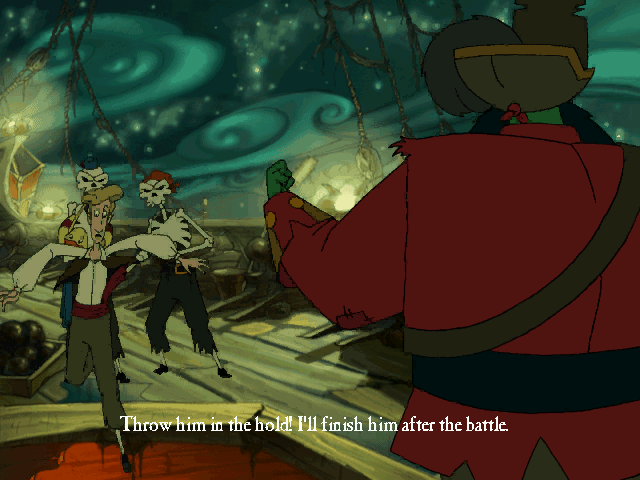 Guybrush looks rather deformed in this shot. xD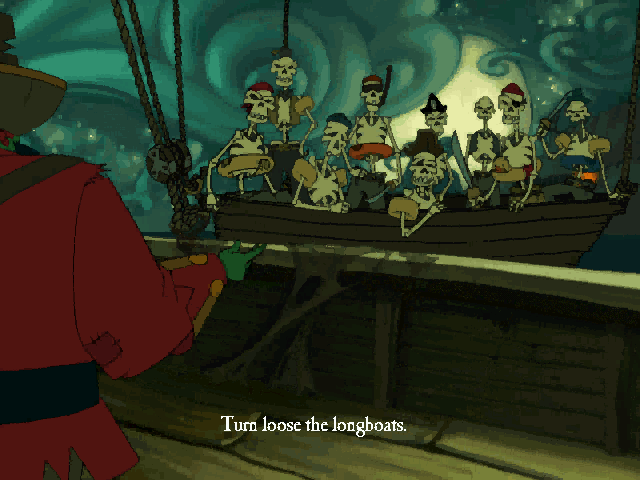 I just love the cartoony style the game went with. :D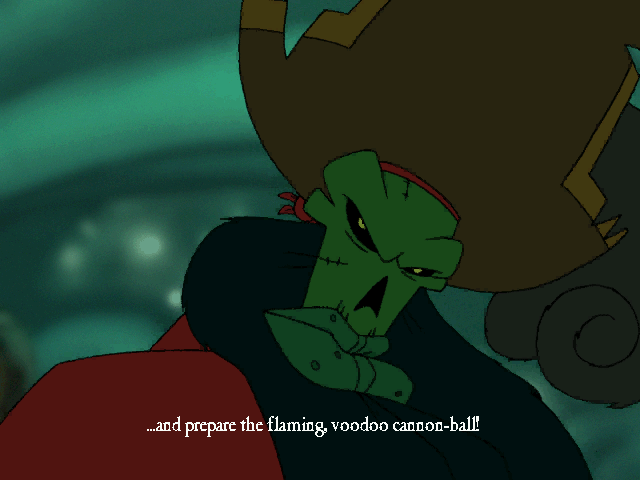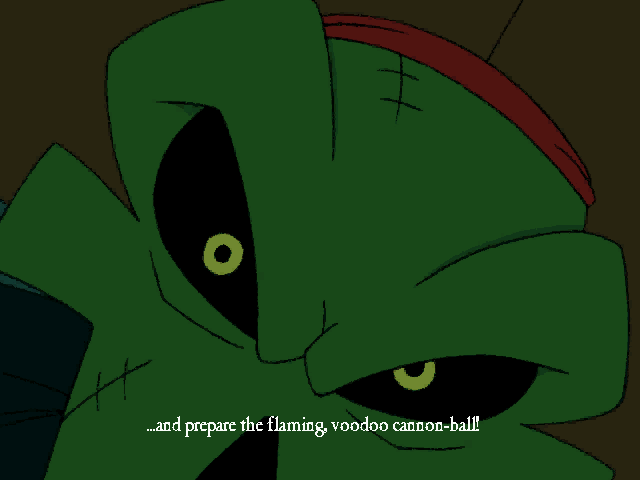 SCARY LECHUCK CLOSEUP
But not as scary as the mouth-closeup earlier, or as scary as it was in the demo, where his teeth were individually detailed. xD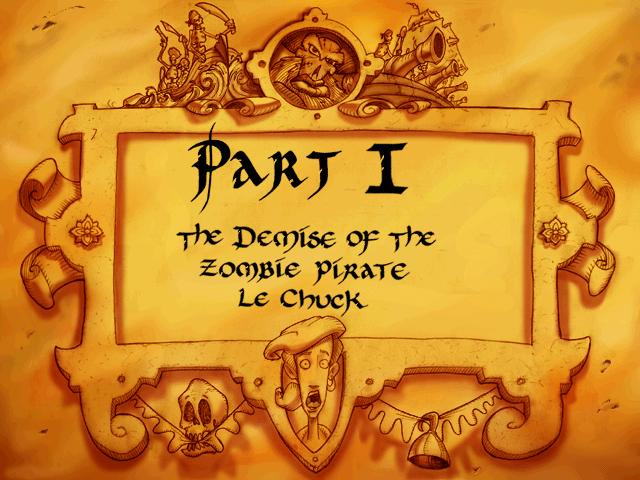 And so begins Part 1. :D
We're approaching a hundred screenshots at this point, so here is where we stop. Don't worry, the next ones are coming soon. :D
Hi everyone! I'm unicornfoal, and this is my first go-round at a screencap adventure! Given that Tales of Monkey Island is just about to conclude (IT'S GONNA BE BRILLIANT!), I thought I'd go for a series very close to my heart: Monkey Island. Someone else has already claimed the first game, Secret of Monkey Island, so I thought I'd go on to the next game in the series I played, which was the third game, Curse of Monkey Island.
FEELING:

energetic

PC SPEAKER:

Monkey Island 2: LeChuck's Revenge