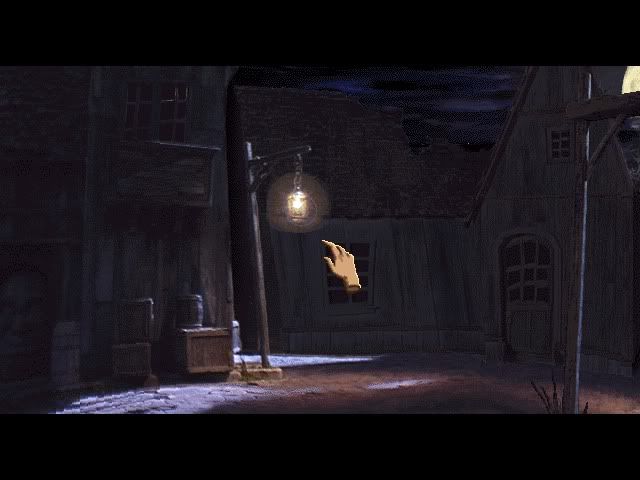 Well, here we are in HorrorLand proper… and we've landed right in the middle of a semi-interactive cutscene. Now, where's Lizzy gotten to?
"Oh no… no possible way…"
She just popped up from the bottom of the screen! I guess she was tying her shoelace.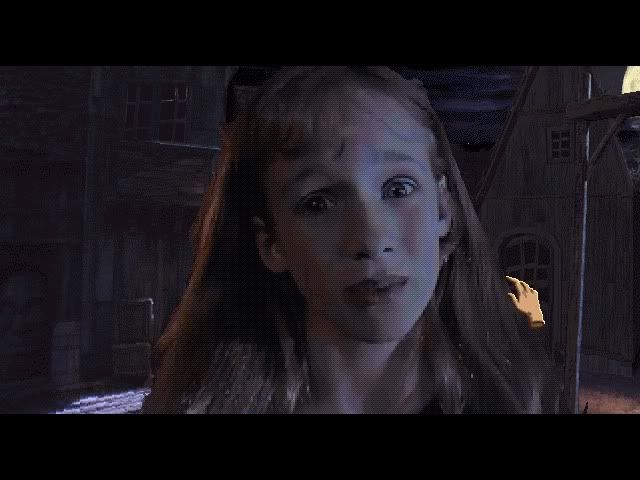 "I don't even want to think about how they did it… but somehow we're back here in HorrorLand… This can't be good, oh man!"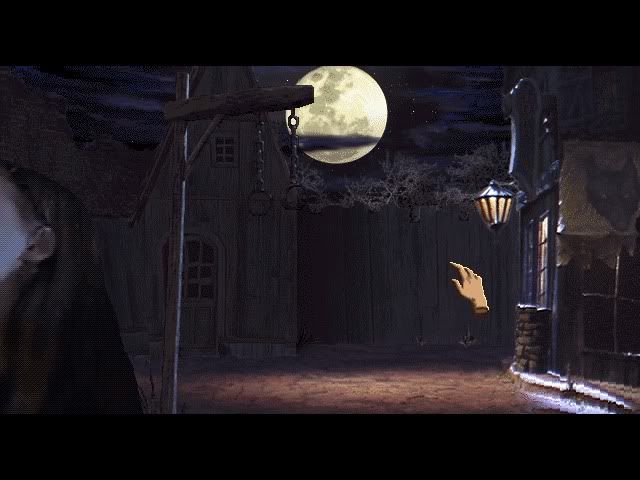 I distract myself from Lizzy's complaints by looking around… Lizzy's going through a cutscene right now, but I'm allowed to look all around this area. I could even cut this bit of her dialogue short and shift to another area if I wanted to, but that wouldn't be playing the game right.
Hmm, what's that over there? But it'll have to wait for Lizzy to finish filling me in on the situation.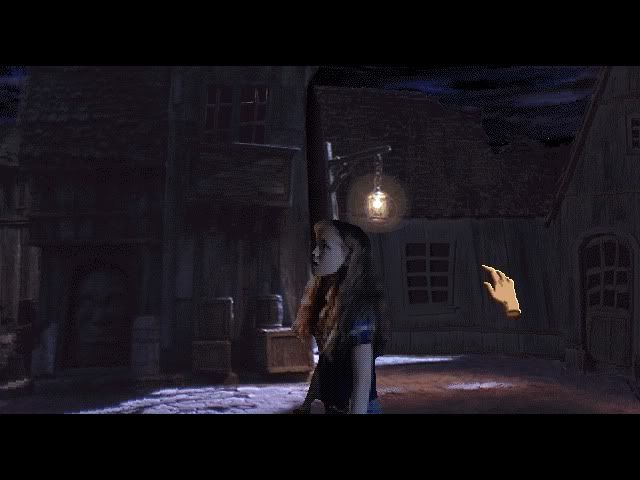 "If we're smart, we'll find a way out of here… real fast."
"See… you never know what's real here, and what's not."
Said Lizzy, looking surprisingly sinister… what if she's not the real Lizzy, either? (Fortunately, this problem never arises. Quite the reverse, actually.)
"…but either way, it's always totally terrifying."
"Like here, for instance. Werewolf Village…"
Woah! Was that a wolf howling I just heard? It sounded so close… so fearsome.
"I'm freaking out! And of course, there
has
to be a full moon…"
Another voice cried out,
"Hey! How about a little help over here?"
That sounded like…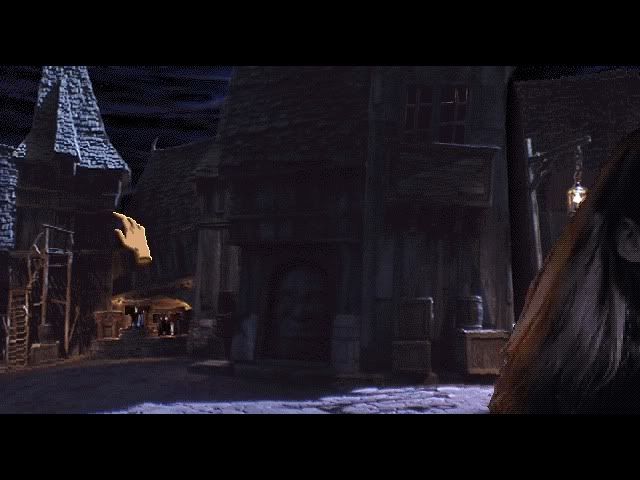 Those two! Could it be Luke and Clay?
Oh man, I am totally not keen on that wall-face with the glowing red eyes, though!
Just a bit farther left, Lizzy…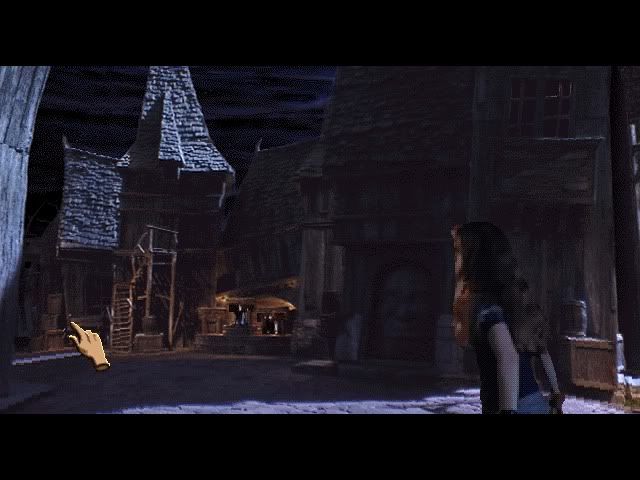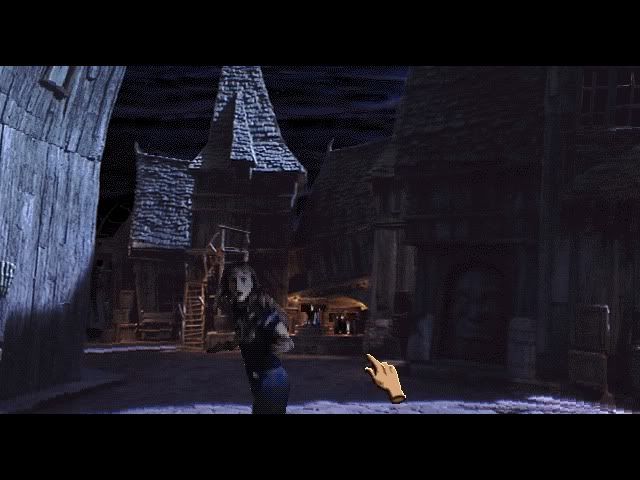 "Oh no!"
Hey Lizzy, wait up!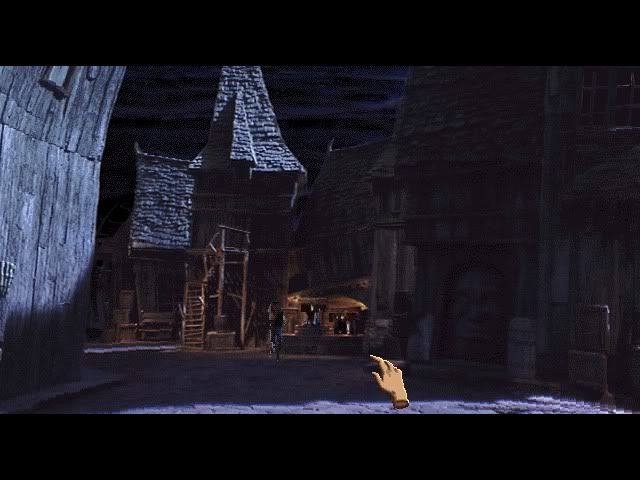 I'll just follow her over here… you don't want to be left alone in HorrorLand. You never know what might sneak up on you.
Area transitions are mini-movies that showily move towards where you're going… you really get the feeling of being in an entirely continuous world.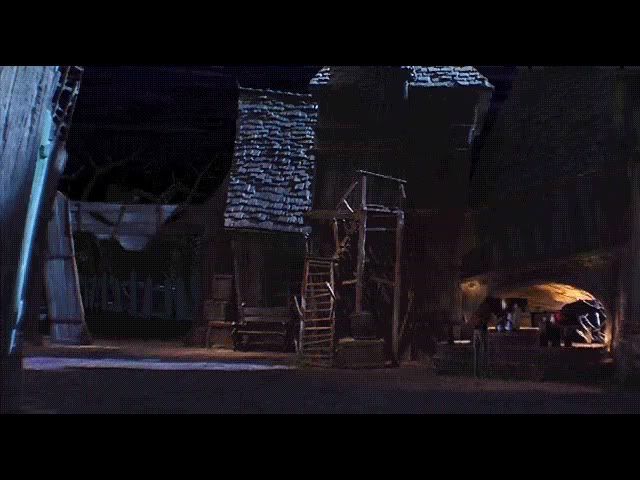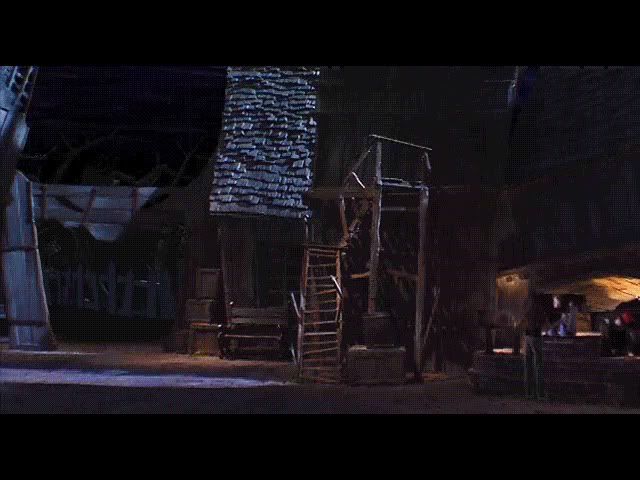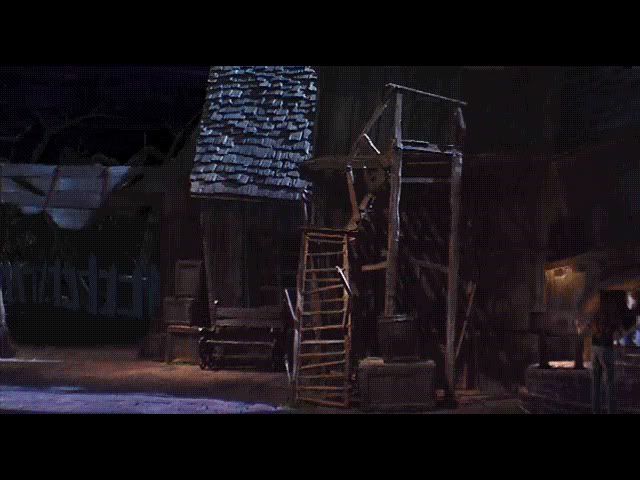 Here we are, but accusation takes precedence over exploration right now.
"Luke! What d'you do, what d'you say, what d'you push? You must've done something to get us back here!"
As if escaping HorrorLand wasn't going to be hard enough, I have to figure out how to free these two bozos as well?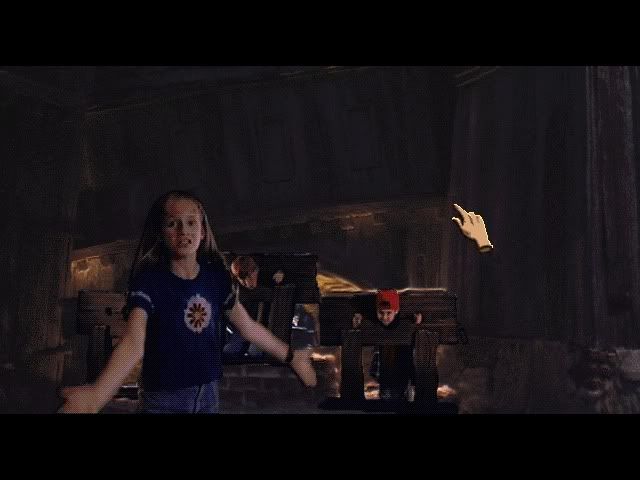 "Two seconds alone and he gets us all in a ton of trouble!"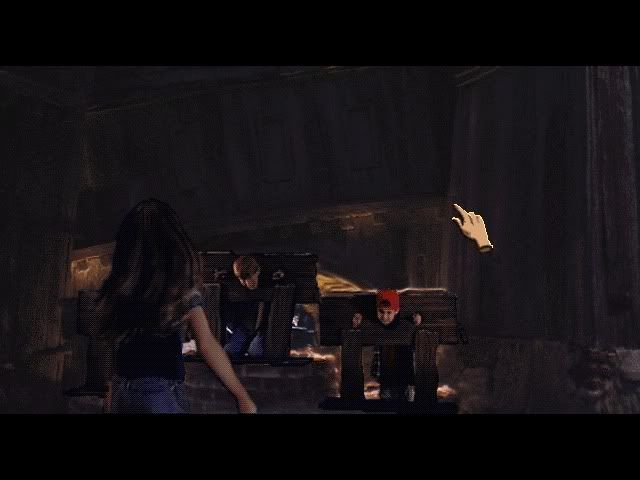 Luke:
"Don't blame me… all I know is I walked into my room, those HorrorLand tickets were glowing, I touched 'em, and poof! here we are."
Clay:
"Yeah."
Ever the yes-man, Clay. It's the only reason Luke likes him. And I've no idea why he likes Luke.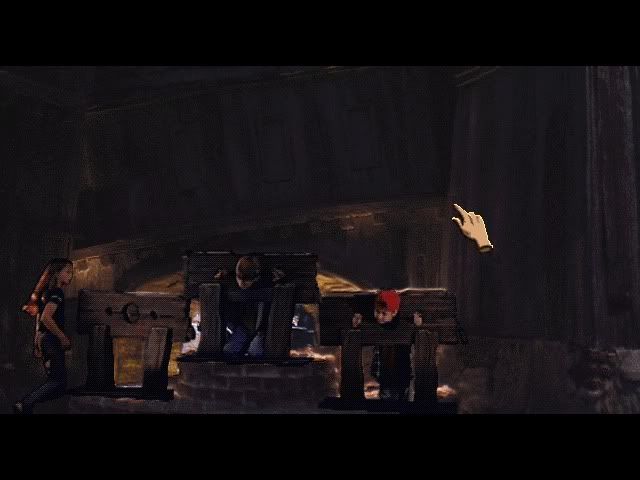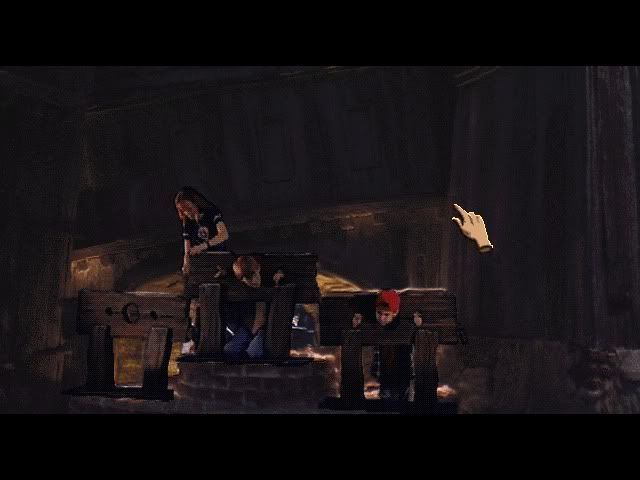 While Luke was babbling excuses, Lizzy was generously trying to free him from the stocks. No dice, though.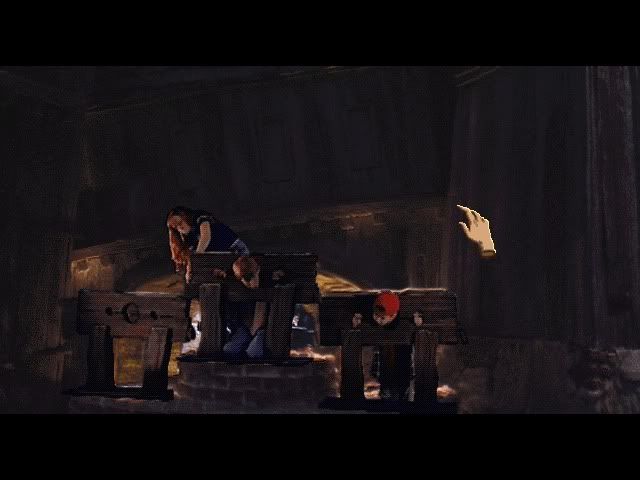 Seriously, Lizzy, I think we'll need a key or something…? Or a crowbar? There's got to be something around here we can use.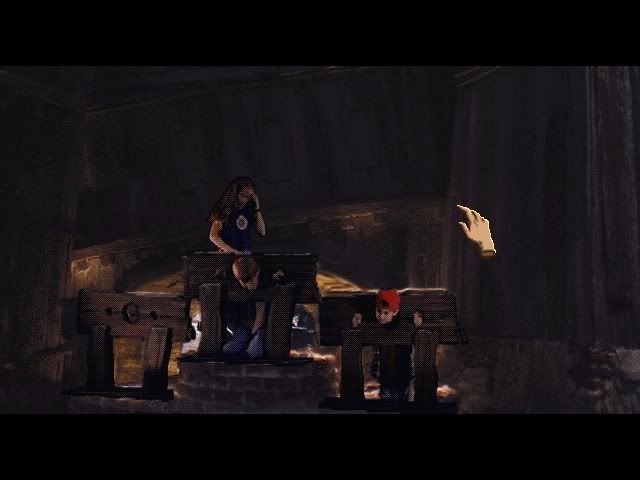 Luke:
"And I'm telling you, Lizzy, this place is even scarier than the last time."
Clay:
"Yeah, we've been hearing wolves, and I guarantee that can't be good! We're doomed!"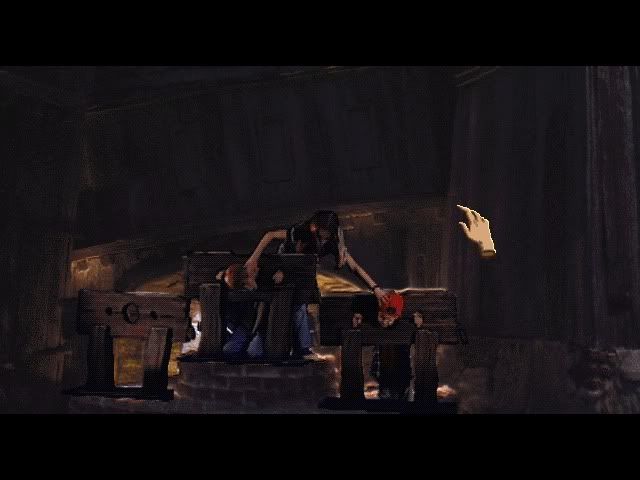 Lizzy applied some much-needed discipline. It's easy to blame the parents. If they'd brought up Luke better, or even just been home tonight, this could all have been avoided.
Lizzy:
"Who stuck you in those stocks?"
Luke:
"WHAT DIFFERENCE DOES IT MAKE?!"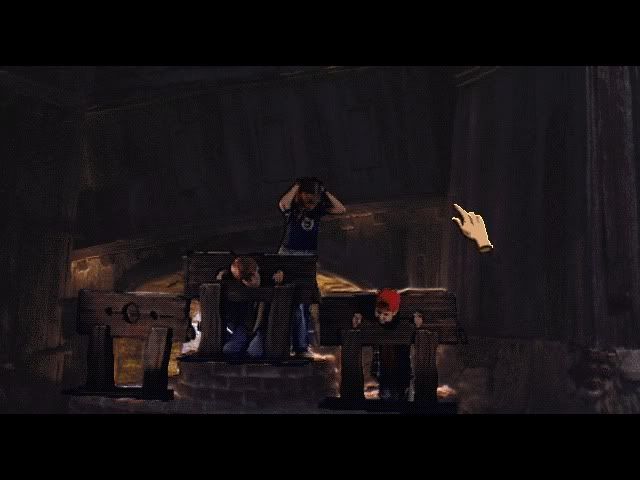 Luke's getting to her. You can tell; she's pushing her hair back again.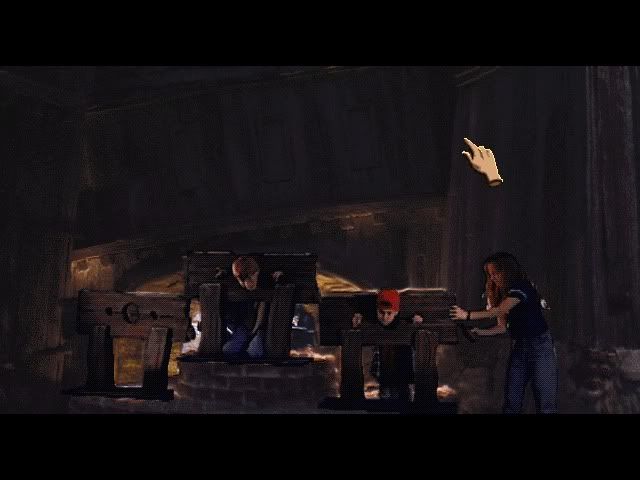 "Don't you love my sister? We're in a total pain, and she's standing around wanting details! We're not telling you anything 'til you let us free!"
What the Hell? Apparently Luke's reaction to fear is to be an even bigger jerk than usual! We're trying to help you!
Clay:
"Come on Lizzy, find a key."
"A hacksaw? A crowbar?"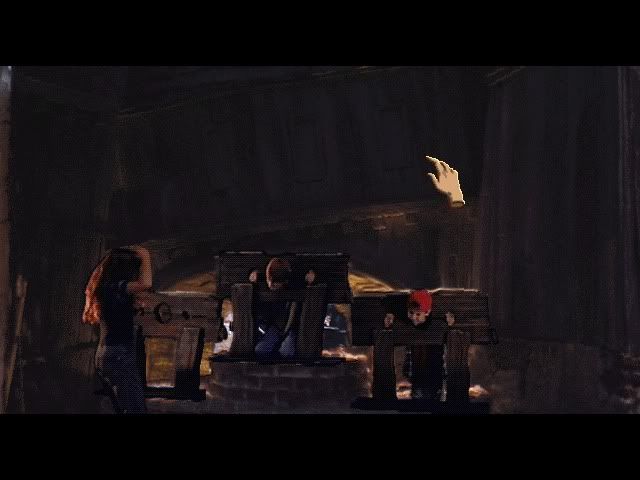 "Whatever! Just get us out of here!"
Lizzy:
"Don't you think you should say please?"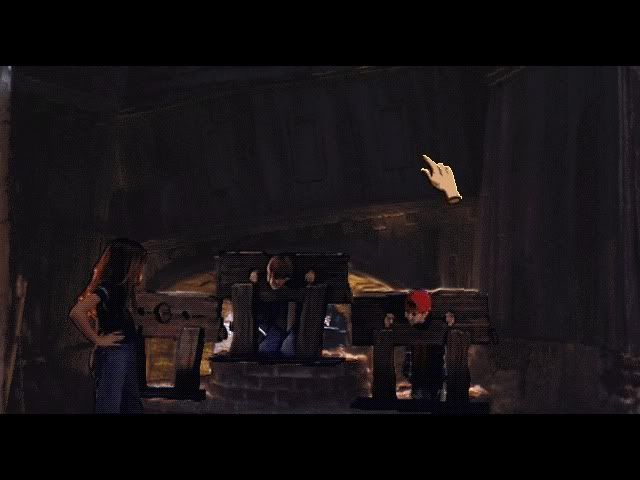 "PLEASE!"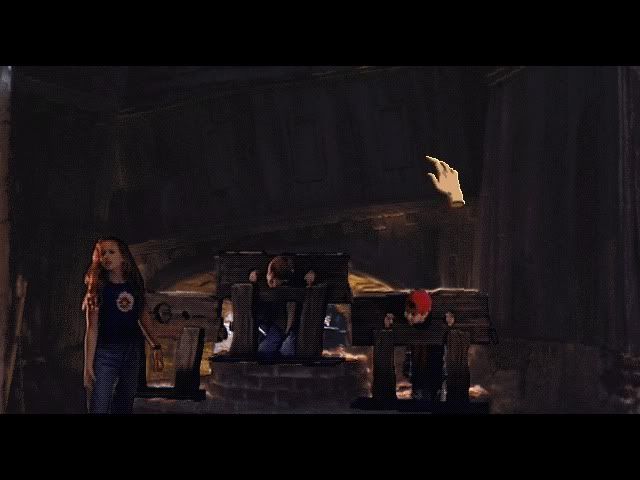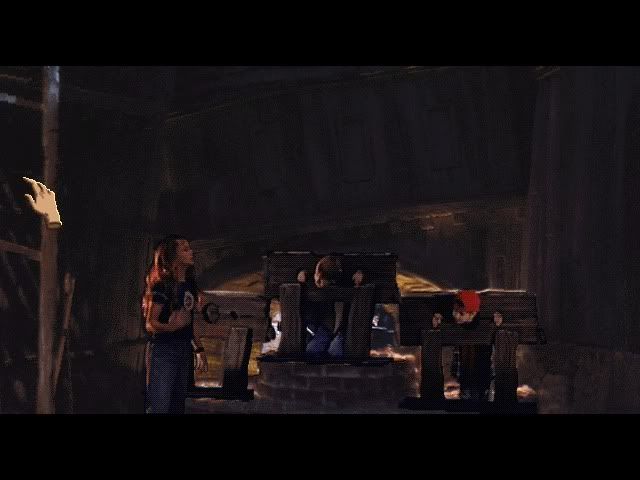 Well, Lizzy's decided to just stand there constantly brushing back her hair and watching out for approaching monsters, so I guess it's up to me to look around. A.k.a.: The game begins for real!
Just to the left of the stocks is the exit from Werewolf Village, but it just leads to another part of HorrorLand. Let's stay here for now and see what we can accomplish.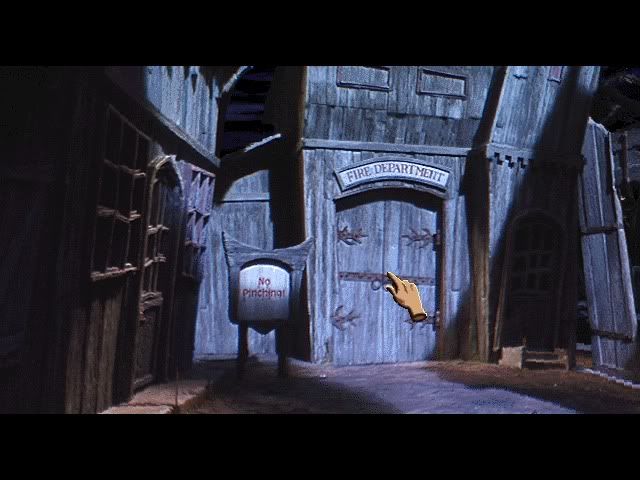 Just to the left of that, an old fire department and a "No Pinching!" sign. The latter is a reference to the original novella, in which, spoilers, the Horrors could be deflated by pinching them – a weakness abandoned in every later sequel, I think. The fire department is foreshadowing, instead.
Let's take a look inside, though. They may have the sort of tools that can free prisoners from stocks.
[insert horrified scream here]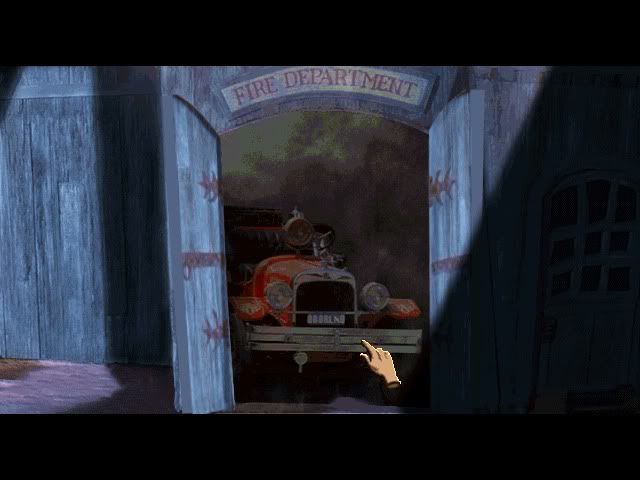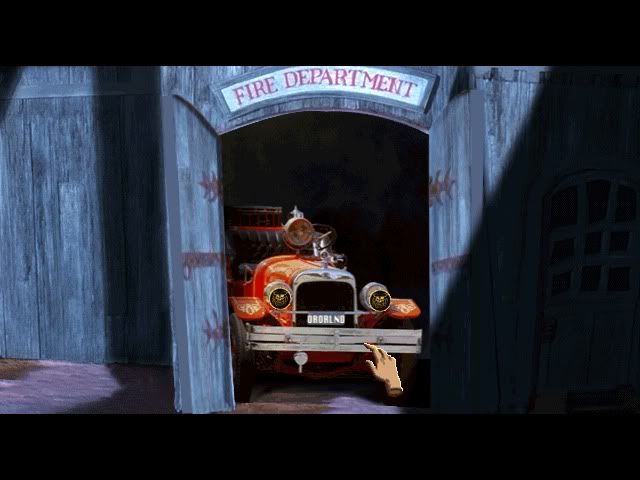 Oh, it's just an old fire truck, with eerie glowing headlamps. Wait, what are those headlamps?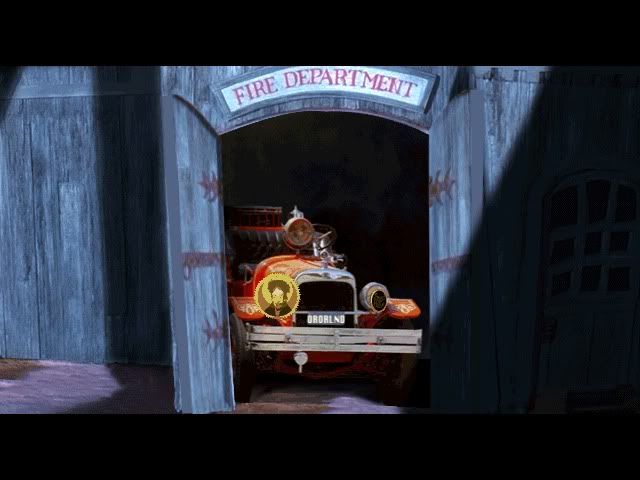 Aha! These are hidden HorrorLand tokens – the currency of HorrorLand. These exist in a much-altered form in the more recent
Goosebumps HorrorLand
book series, too.
In the game they're just for bragging rights, pretty much – there's only one place I can think of where they can be spent. However, they also act as your life force; in situations where you're under attack, being hit will cost you tokens, kinda like Sonic and rings… although I don't think it's possible to die, which removes one subversive interpretation about the games as justification for a capitalist economy.
There are 777 tokens in all. Are we going to be collecting all of them? Hell no! I don't even know for sure that there really are that many; it'd be incredibly difficult to get them all. But they're one of the main reasons for exploration, as nearly every statuette and chest contains a few.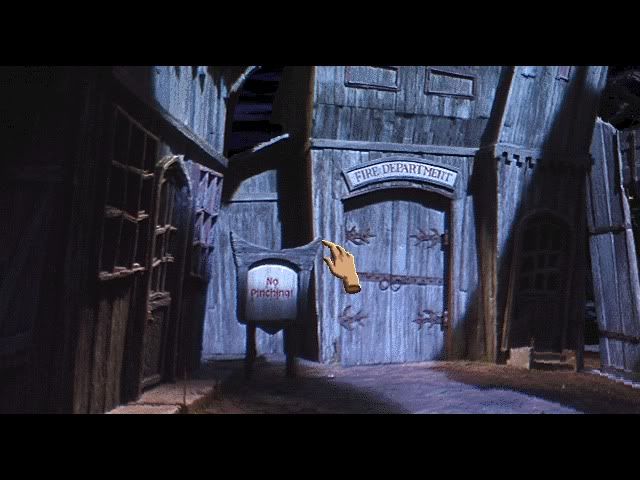 Moving left, we pass a trash can – harmless, right?
And past this window –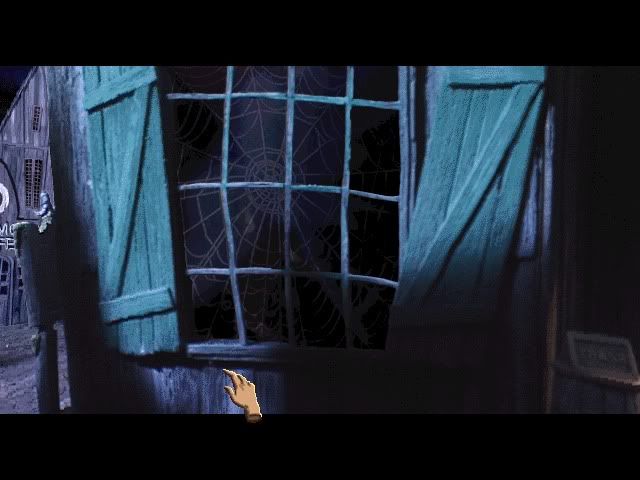 …Wh-wh-what was that?! It looked like Lizzy… in flames! Or was it some horrible spectre of the netherworld? …Nah, it must just've been a trick of the light. And the accompanying wail was a trick of the wind. You know what, I'll just check out that trash can after all.
Ah-ha, what have we here?
Trading card, collected!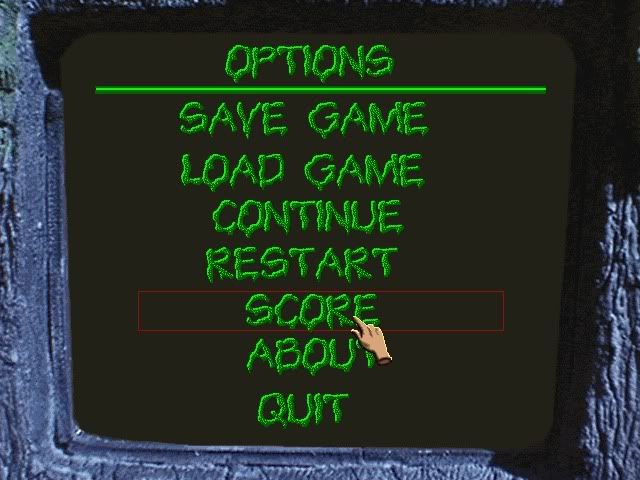 Press the Escape button to view the menu, and then check "Score."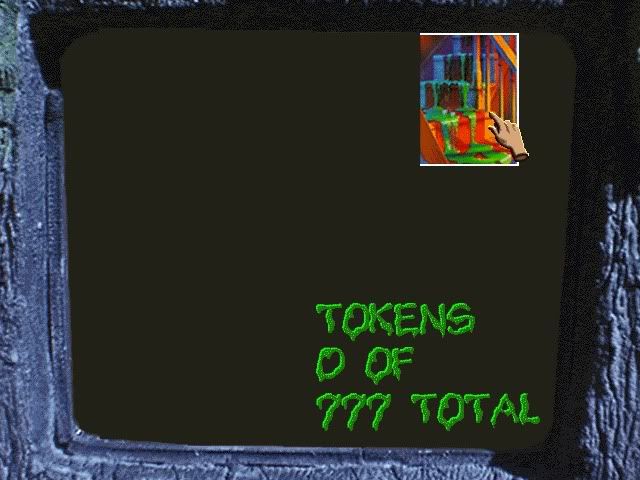 Here's the Score page, which is how I know there are apparently 777 tokens. I'm not sure it's actually possible to get them all… there's one scene where it seems like it should be very difficult to collect all the tokens present without getting damaged. But we'll come to that. The card I just picked up is one of ten. Clicking on them…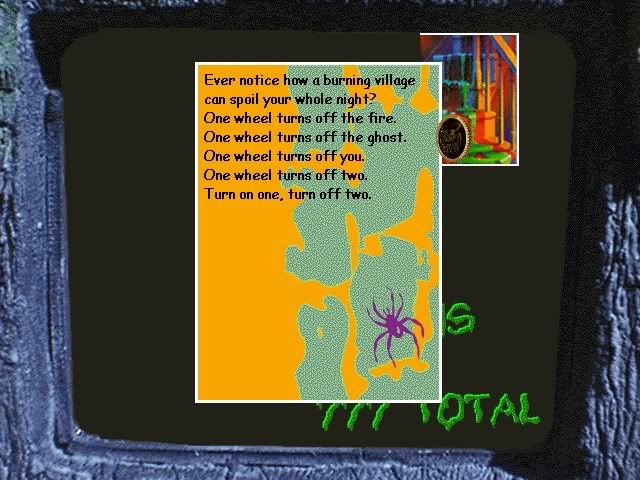 …costs you a token, and gives you a hint to a future puzzle. Often quite a way in the future, so they're sort of spoilers.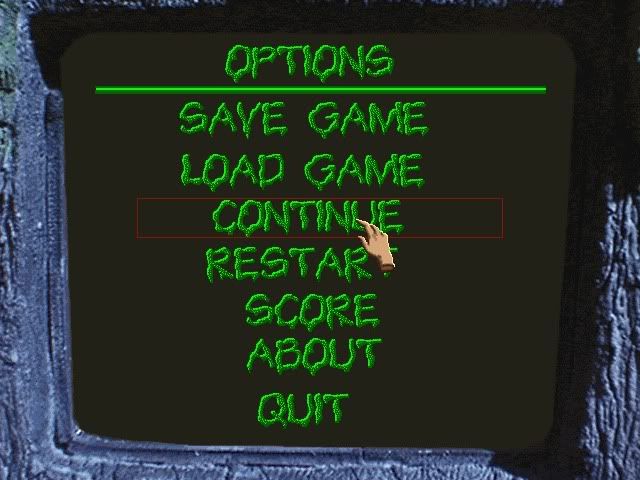 Let's Continue, anyway.
Just checking that the Horrors didn't "lock them up and throw away the key."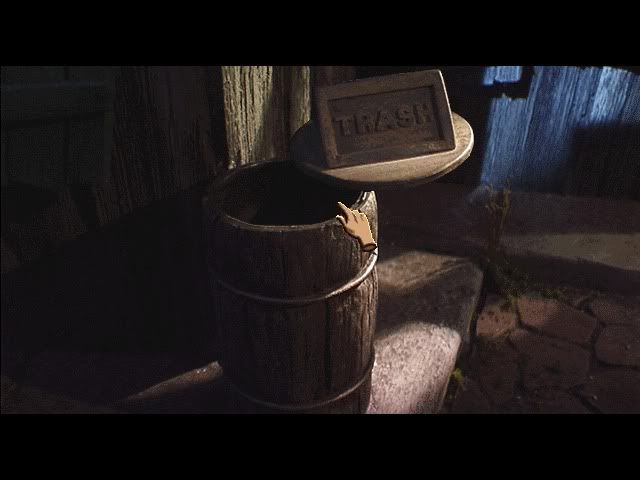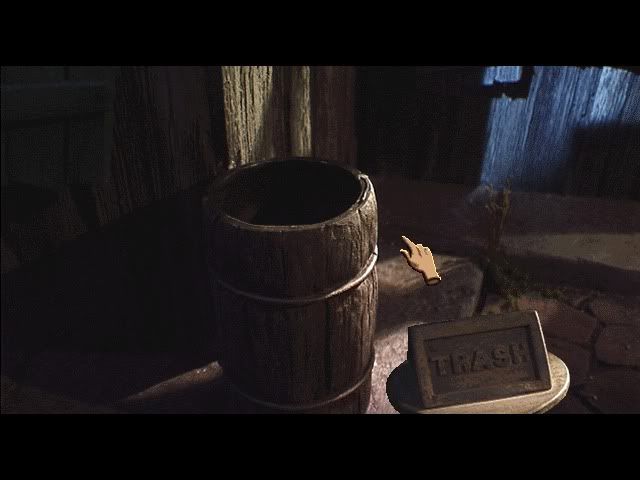 …Huh, those trash can lids bounce off like they're on springs. Anyway, I'll just peek inside –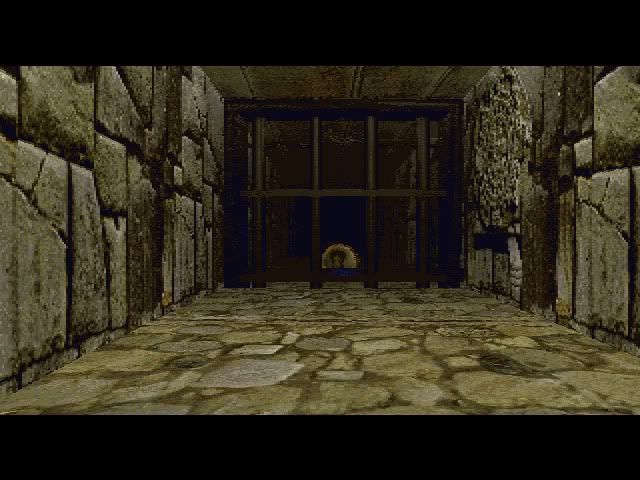 Huh?! I got sucked down some kind of deep passageway… into an underground tunnel?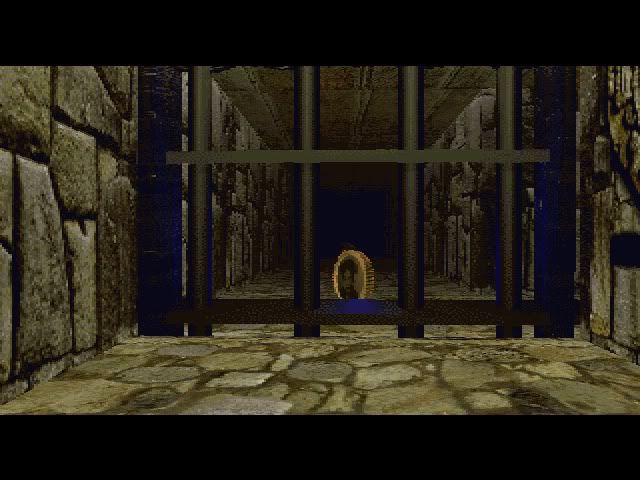 Uh, with tokens, though. If I could get through the bars. (These tunnels are where most of the game's tokens are hidden.)
The hatch I came through is just back there; I can probably climb back up without too much difficulty, although I'm not entirely sure how I fit through that trash can to start with.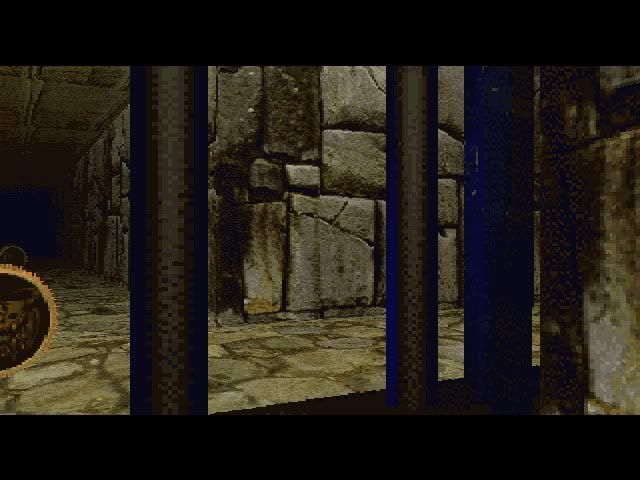 Just looking around… you know from
Attack of the Mutant
that I enjoy wasting whole instalments gazing at endless identical walls.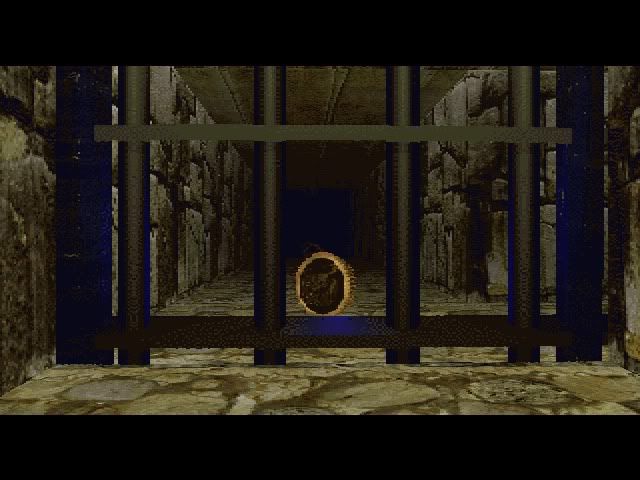 Wait, what was that noise? I thought I heard something down the –
OH GOD A MONSTER AAAAARRGH
And then I turned and ran, but not like a coward, as those things are genuinely terrifying. A few more points: The tunnels clearly use the same engine as
Attack of the Mutant
- you can tell from the floor-mounted camera. In addition, underground tunnels populated by monsters are featured in other HorrorLand sequels, too.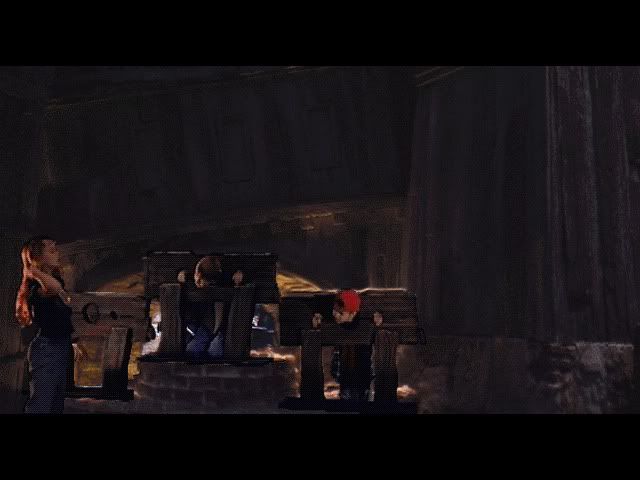 I see Lizzy's made no progress here, and wasn't even worried by my brief dive down a trash can. I guess I'll return to the village hub and check out the buildings there.
You know, I'm pretty sure the original HorrorLand was just an evil theme park, not some kind of Renaissance Faire… but this is the interpretation that's tended to stick, however.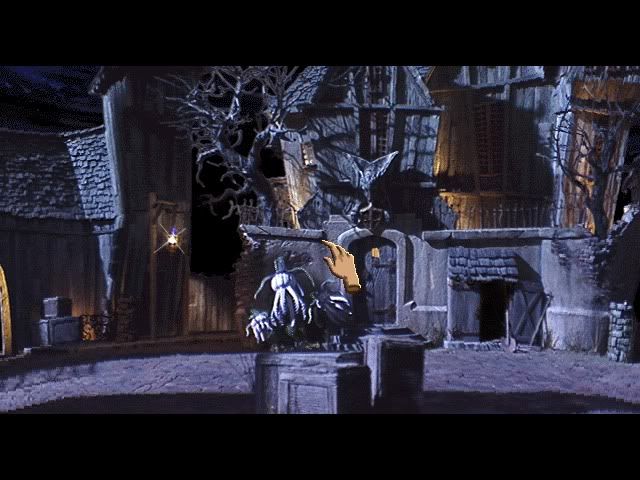 Here we are. I think I'll avoid those nasty-looking flowers, though, and do this logically. Take a look around the whole village square.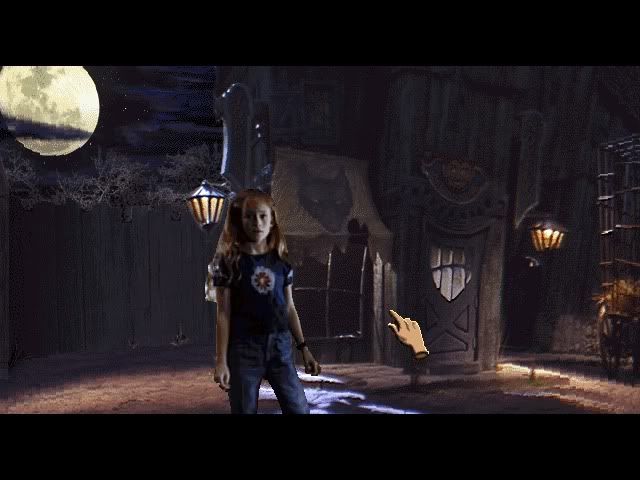 Lizzy abandoned Luke and Clay to inform me that
"I have a really bad feeling about this…"
I agree. Being an ordinary visitor in HorrorLand is dangerous enough, but being kidnapped by the Horrors? That has to be even worse!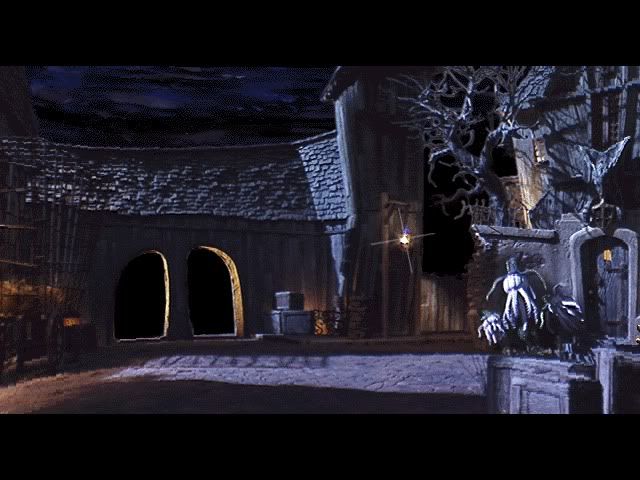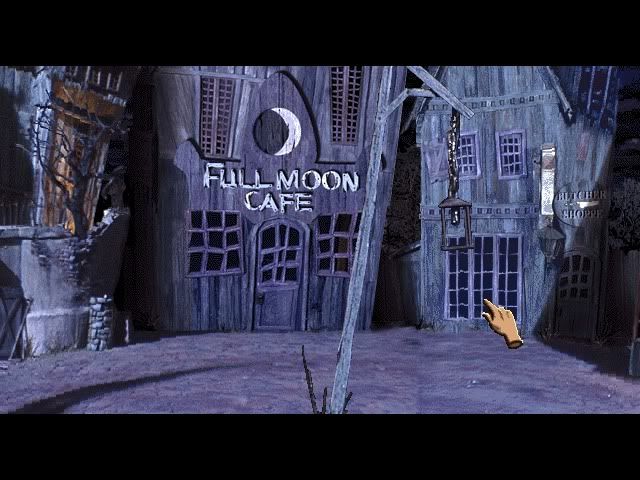 </a>
Why does the Full Moon Café not have a full moon as its logo? I'm not hungry, anyway. Of course I'm not. It's the middle of the night.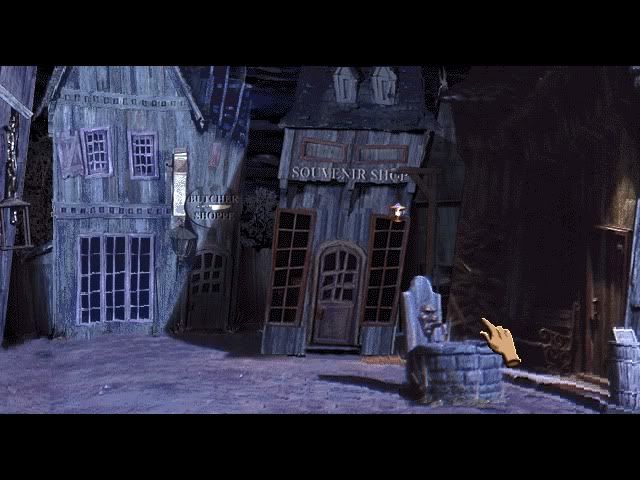 Somehow, I don't think I'll be needing either of those places.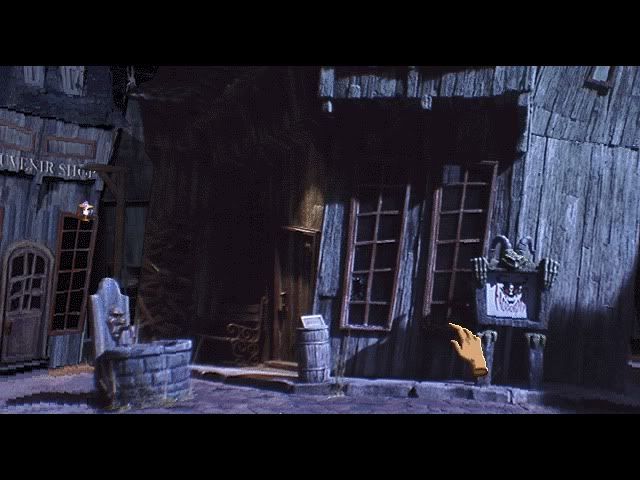 More trash cans… well, I guess there's no excuse for littering, even when you're a monster.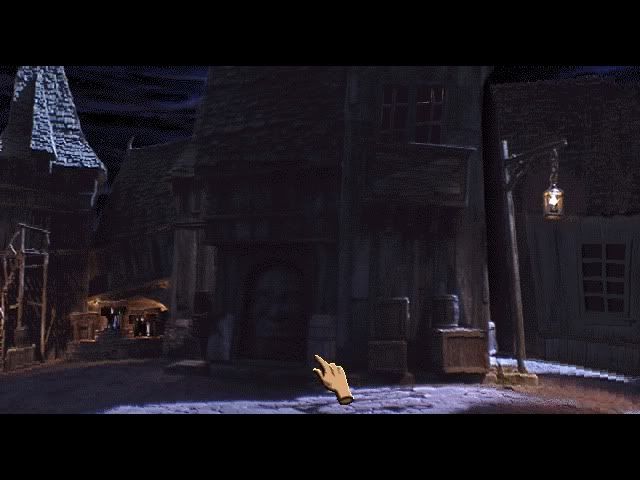 And coming full circle, here's that giant face in the wall. I'll go and check it out.
This is the Riddle Wall. It speaks unhelpful platitudes if you give it money.
And by some miraculous coincidence, there's a token right here. I feel like I'm being manipulated.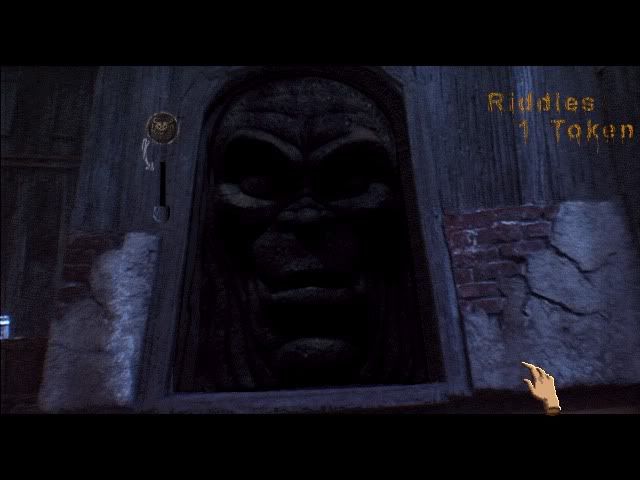 Mouse to the bottom of the screen…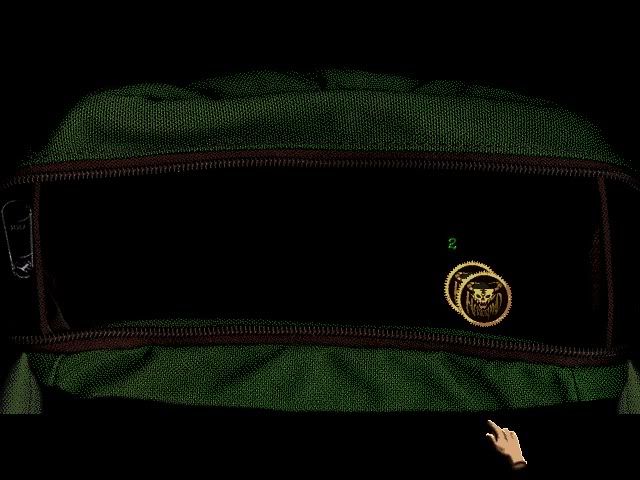 …And here's your inventory pouch. Most things have to be manually placed in it, but not tokens. I'm not very rich right now, but since there's nothing else to spend them on, I might as well have a flutter on ol' Agodego.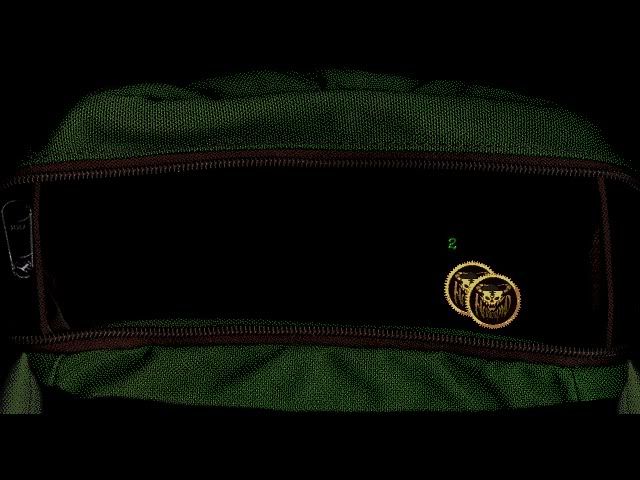 In the slot it goes. Face, face, on the wall, who's the least helpful of them all?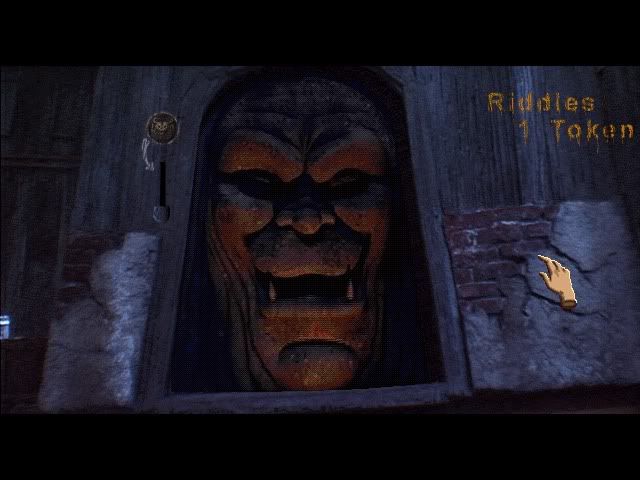 Okay that's pretty scary.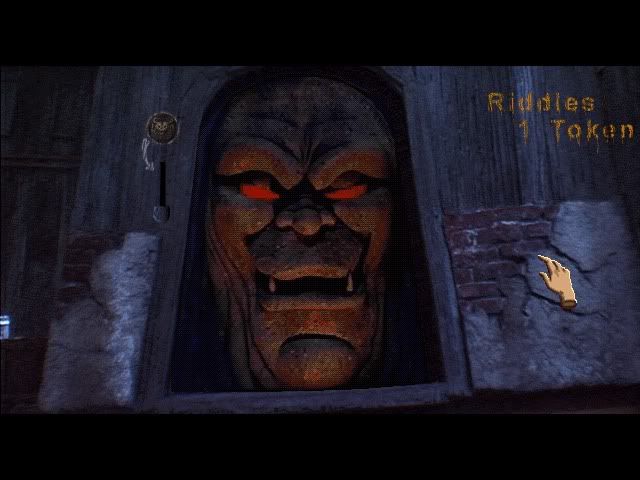 "HORRORLAND, HORRORLAND, TRICKS UP OUR SLEEVES…"
"MANY HAVE ENTERED; NOBODY LEAVES…"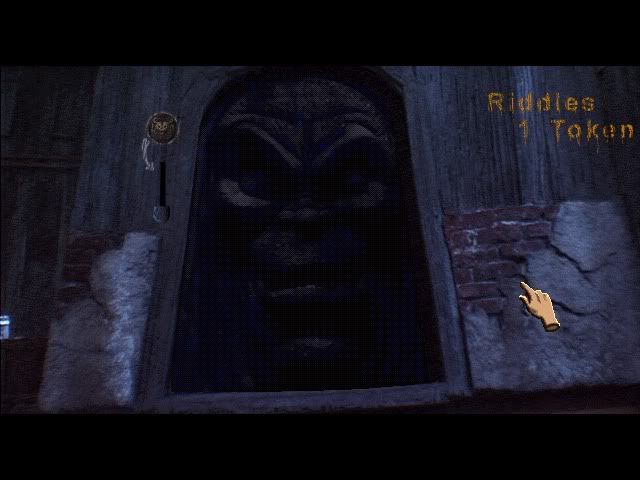 …Well, that was fairly ominous. And also untrue, given that the Morris family and Clay escaped on a previous occasion.
Your handy cursor turns into a pointing finger when hovering over an area that takes you away from the present screen, which helps avoid being confusingly whisked back-and-forth between areas; fortunately, there's no pixel-hunting, so this isn't ever a problem anyway.
Next I'll check out the… what does that sign above the door say? I can't read it, but it looks like some kind of toystore.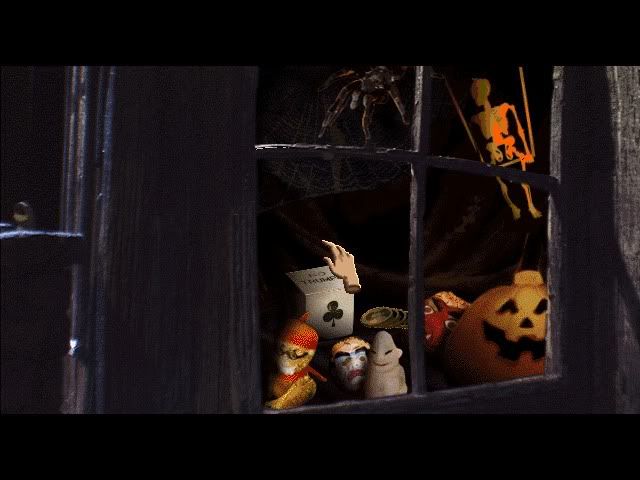 Yeah, definitely a toystore. …Of EVIL.
And cute pumpkins. They're like the mascots of this game. In that there are quite a lot.
See that heap of tokens? I'd like to take it, but if I do, the spider will plunge down and sink its venomous fangs into my soft tweenage protagonist flesh.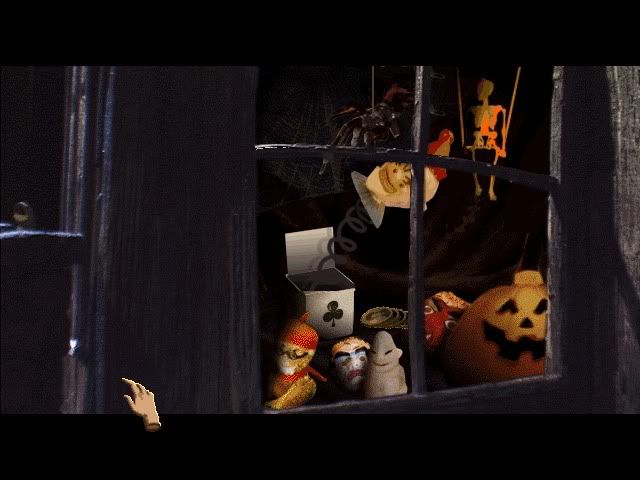 So the trick is to activate the jack-in-the-box to scare the spider off! It's the new rock-paper-scissors.
Did anyone else ever add "dynamite" to that game? It got pretty frustrating at times.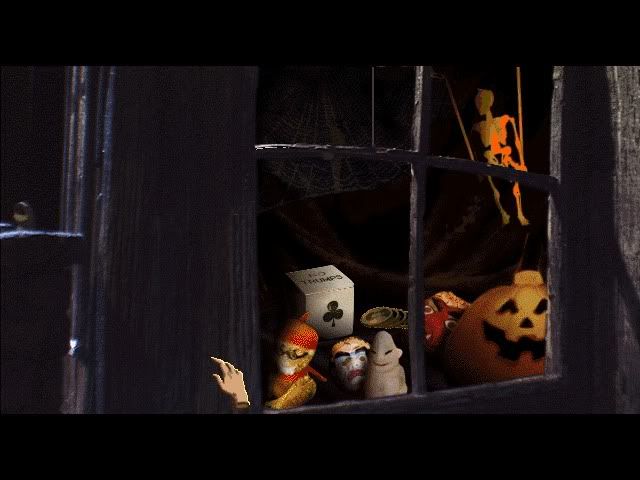 …I was too busy taking screencaps to take the money as well…
There we go. Now I'll go look at that cage just to the right of the toystore.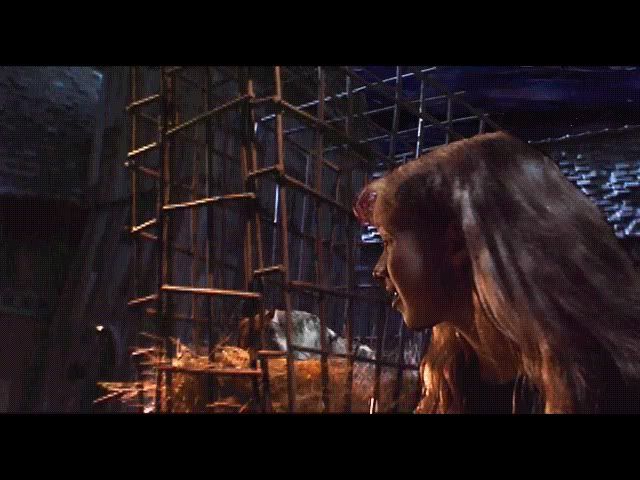 "
Is that a dog or a wolf?"
Lizzy asked, as if she really needed to guess what was trapped in a flimsy-looking cage in a place called "Werewolf Village" at full moon. It's a 9-12 age group novella waiting to happen!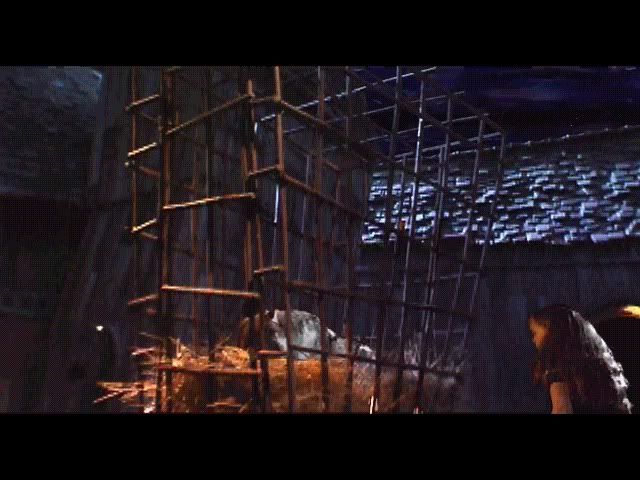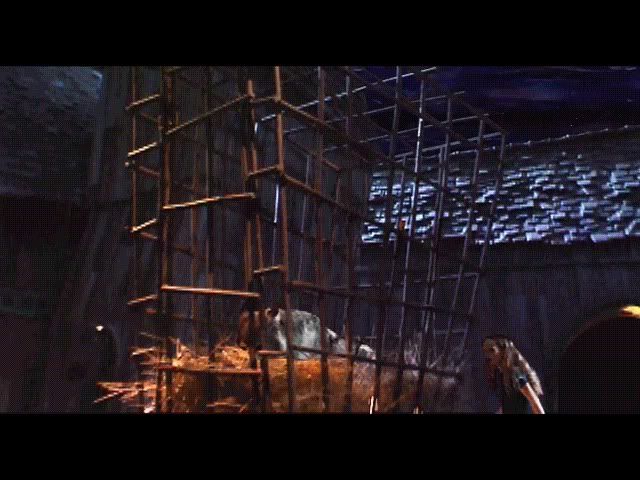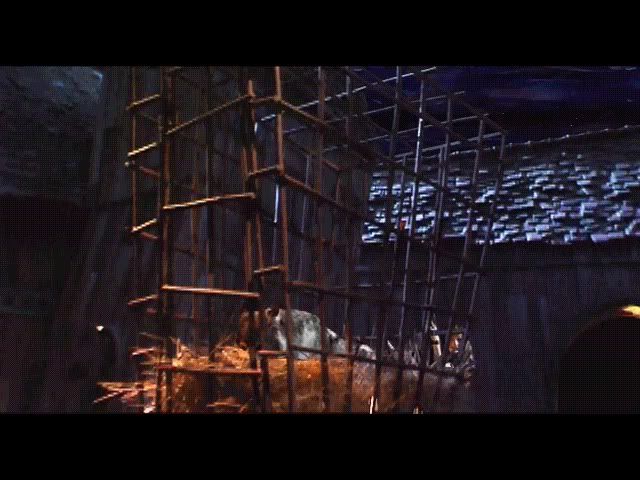 "It's a wolf,"
she tells me, and I'm not going to ask how she knew. This place is horrifying enough as it is.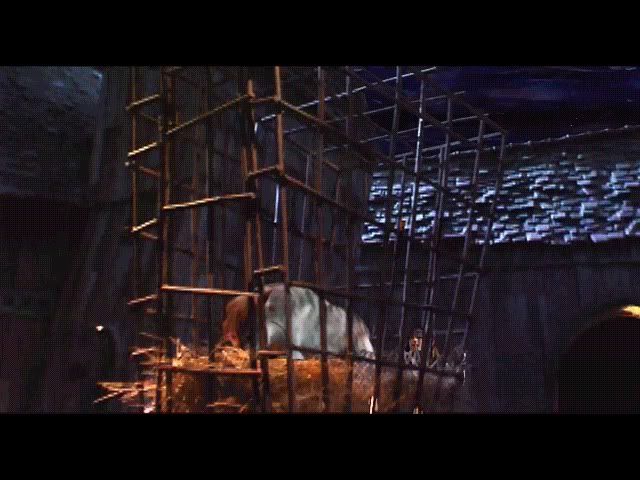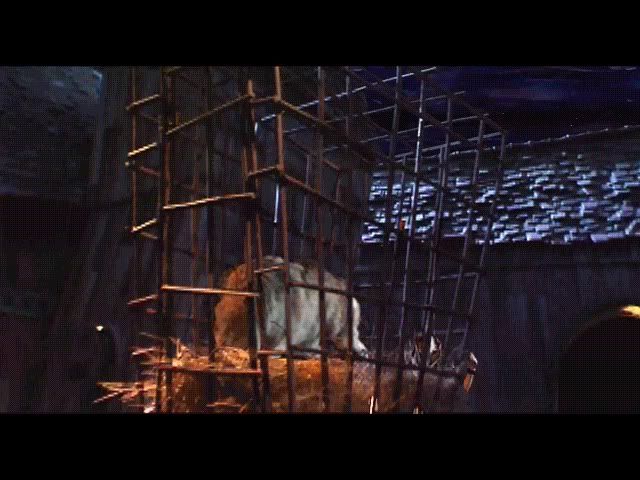 "Woah…"
"What's happening?!"
"What's it doing?!"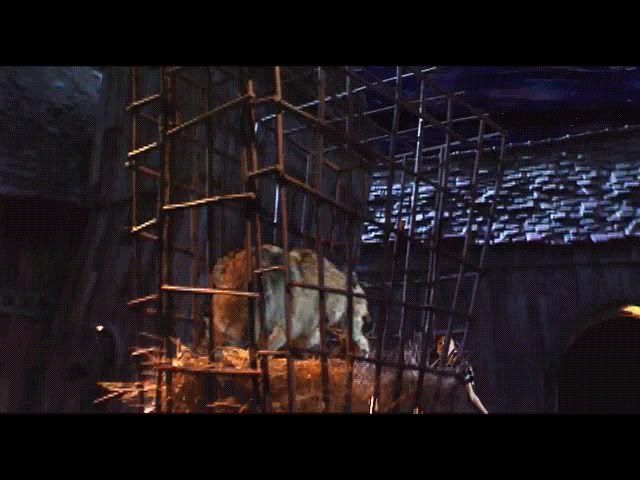 Okay… I think it's settling down again…
Lizzy… I think we should get away from that thing.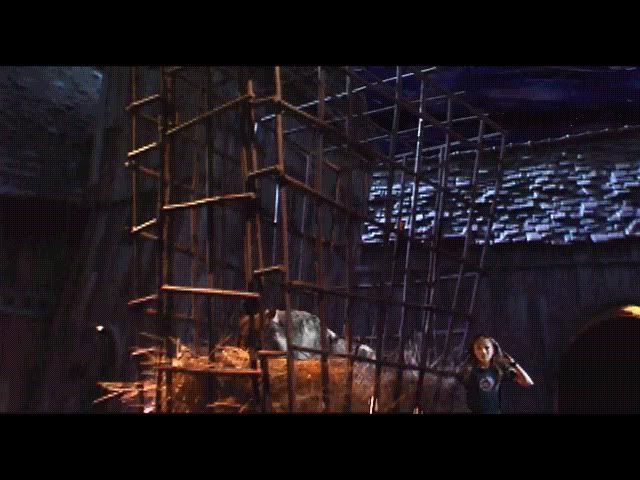 </a>
"Woah…"
"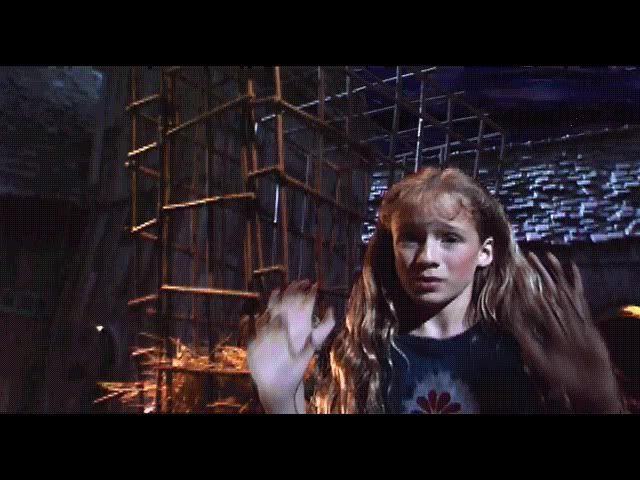 "That was freaky."
"I don't know about you…"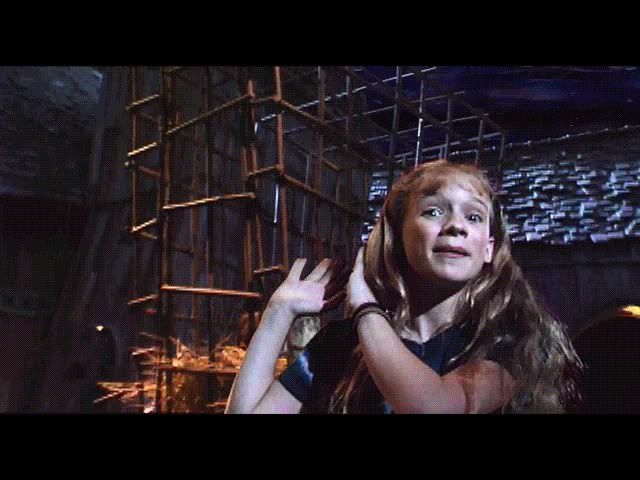 "…but I am moving on!"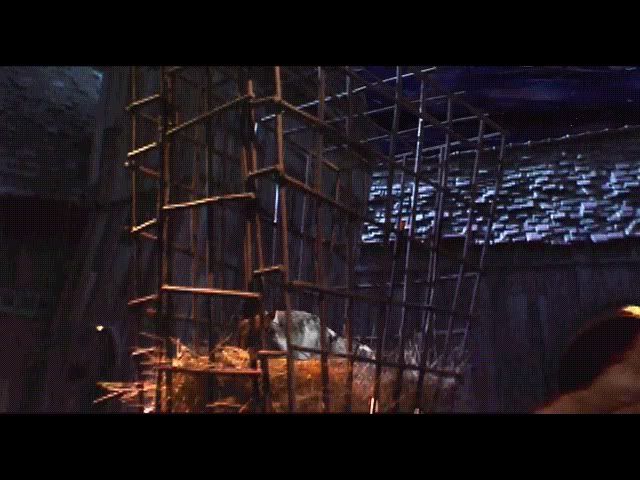 Smart move. Think I'll join her…
Right after I check out the far end of the village, anyway.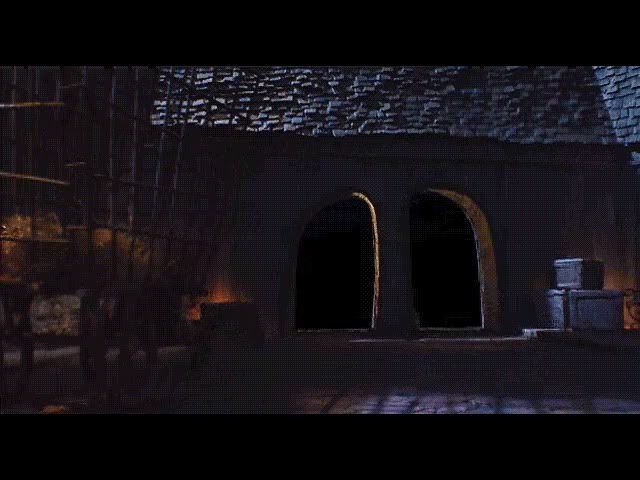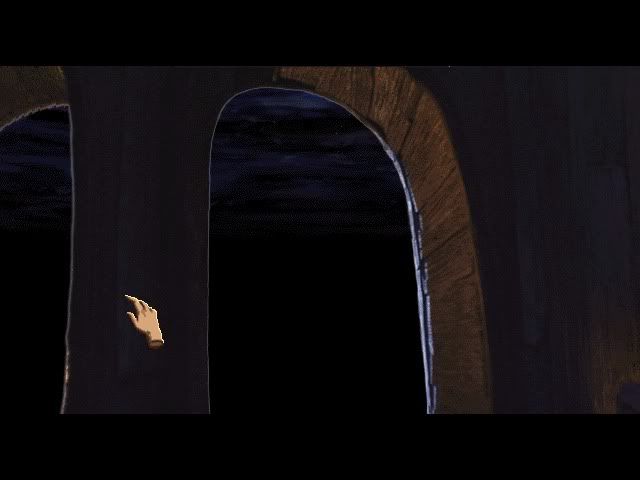 There are some scary-sounding wails coming from out there… Werewolf Village and HorrorLand are dangerous places, but I'll stay in rather than risking what's out there.
I wonder what the sign they hid back here says.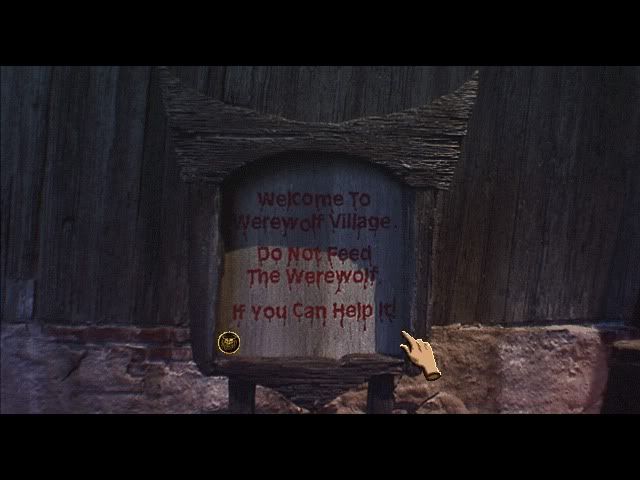 Some welcome. Once I've searched this place I am clearing out and hoping that there werewolf stays on its own turf. I mean, what could be worse?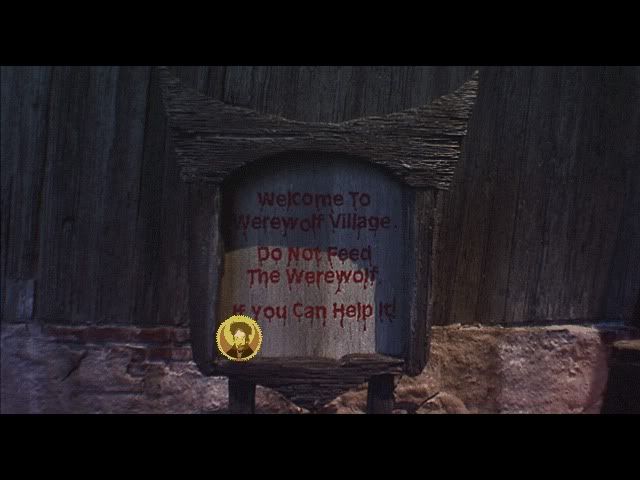 At least I got a token, though. Score. I wonder who that guy on the back is?
To the right of those two viewing-points…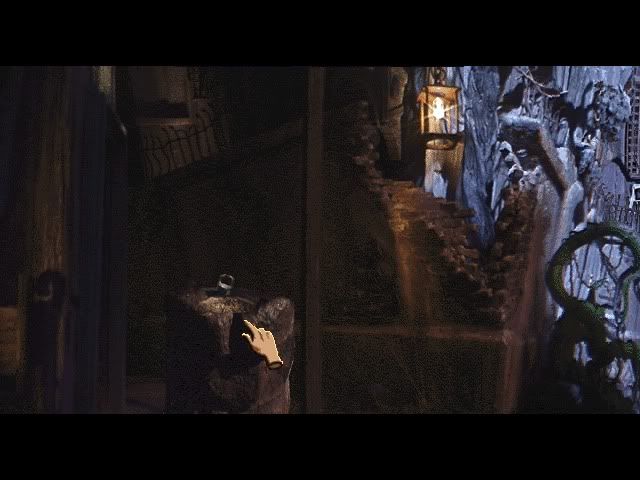 It looks like that freaky house is further to the right. I'll check out this water-spout.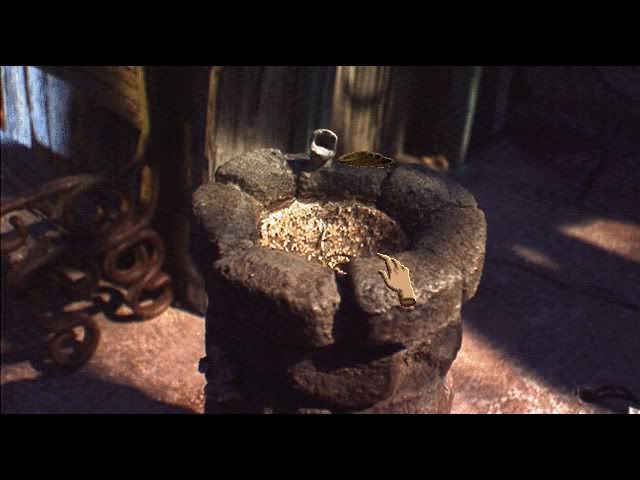 I could do with a drink… hey, more tokens!
The HorrorLand Horrors sure must be clumsy to leave these lying around.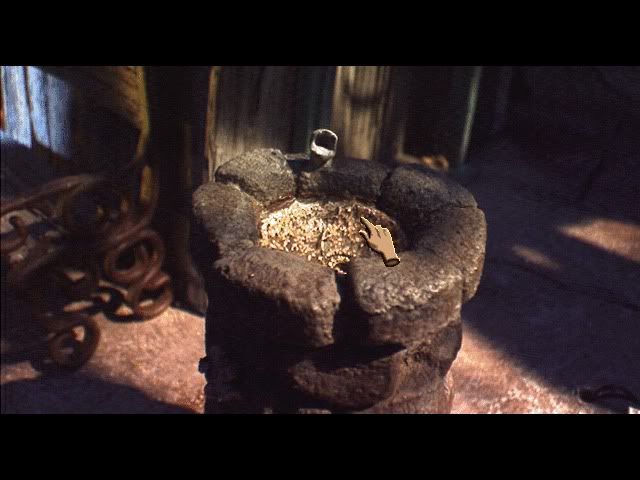 Now, I'm thirsty, so where's the switch…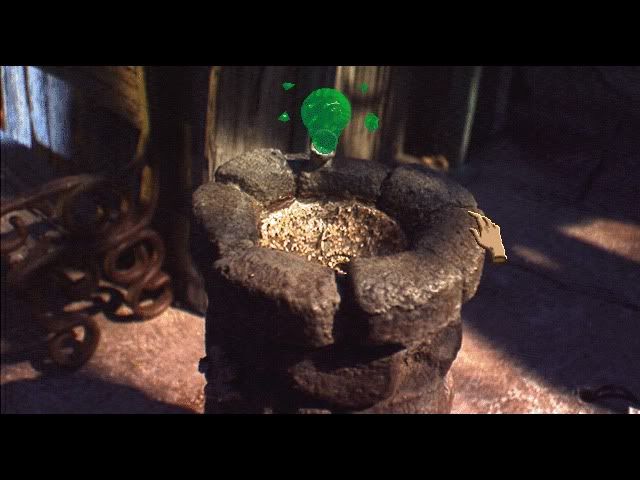 Ew!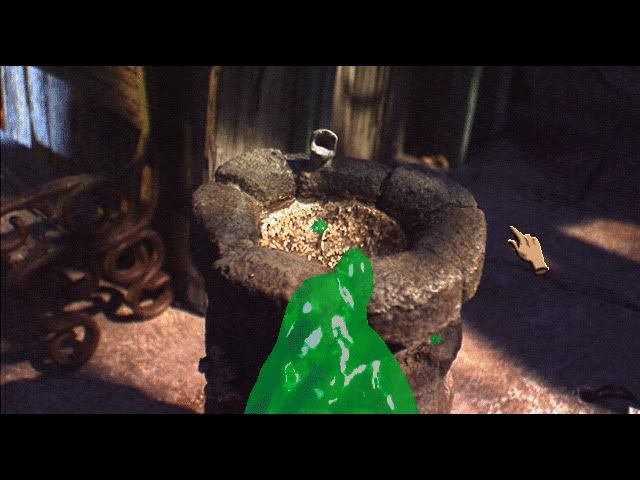 Oh gross gross gross, it's on my clothes, now I really do need a fountain…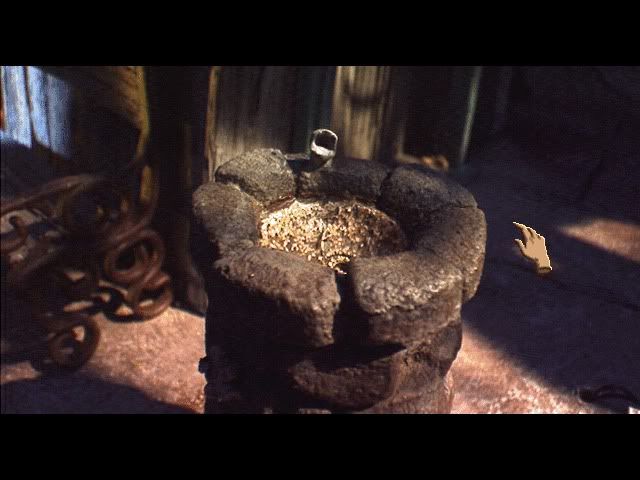 Why does every Goosebumps game involve me getting splattered with green slime?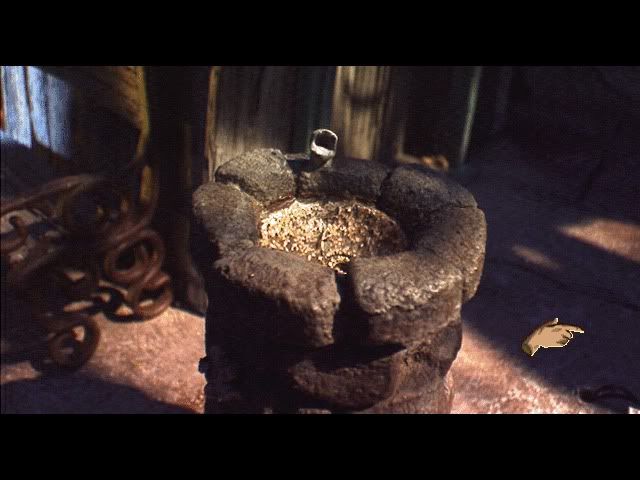 At least it's not Monster Blood… that's one menace I'm glad HorrorLand is without. In this continuity, anyway.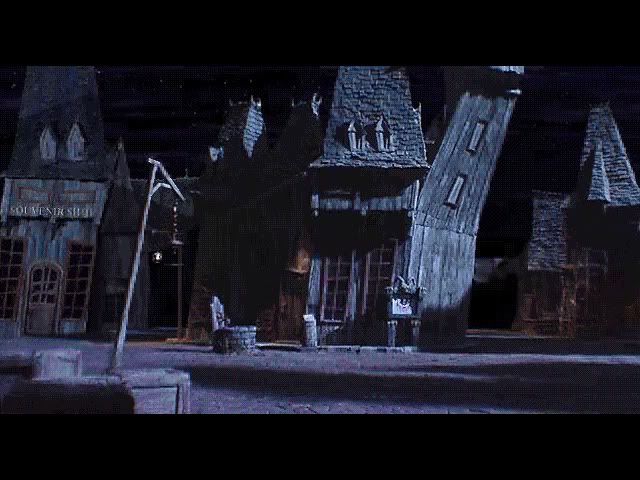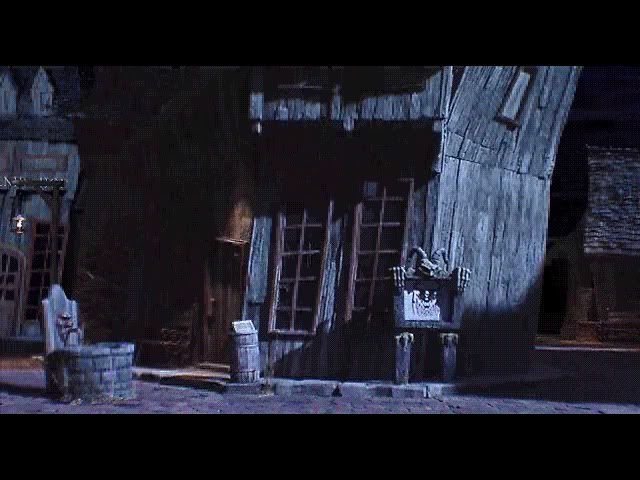 Hold on, I'll just check out this sign. It looks different.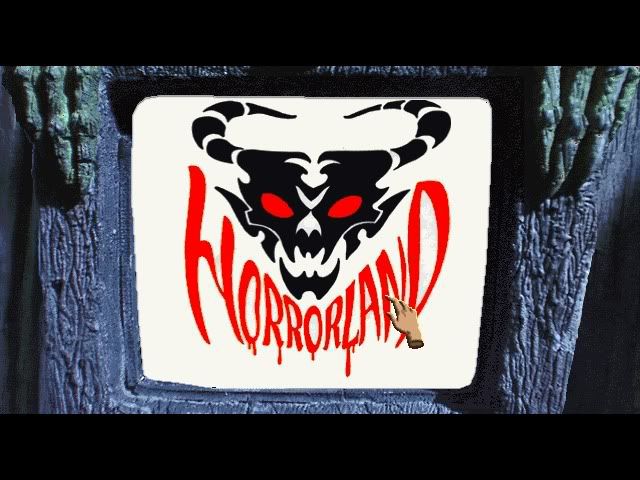 Hey, weird, it seems like some kind of TV screen…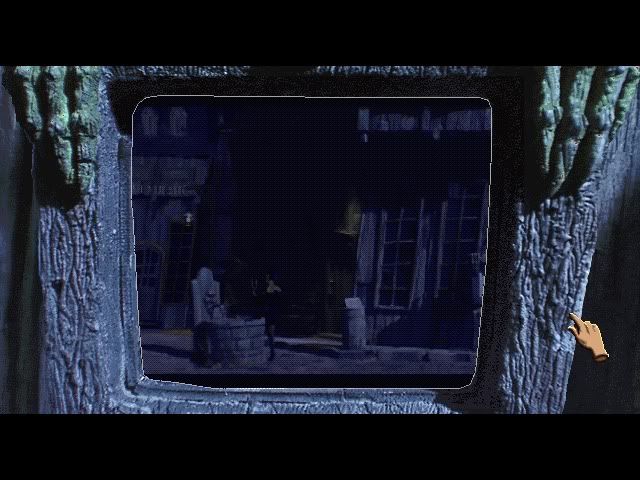 It's someone… doing their hair? If I wanted to watch that all day, I'd go talk to Lizzy.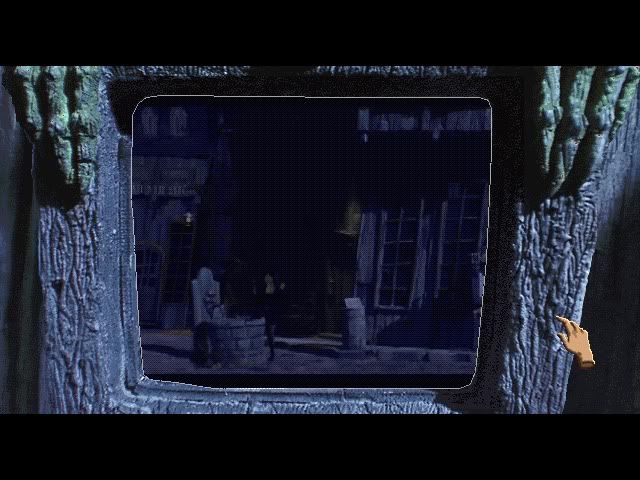 She finally noticed the camera was rolling!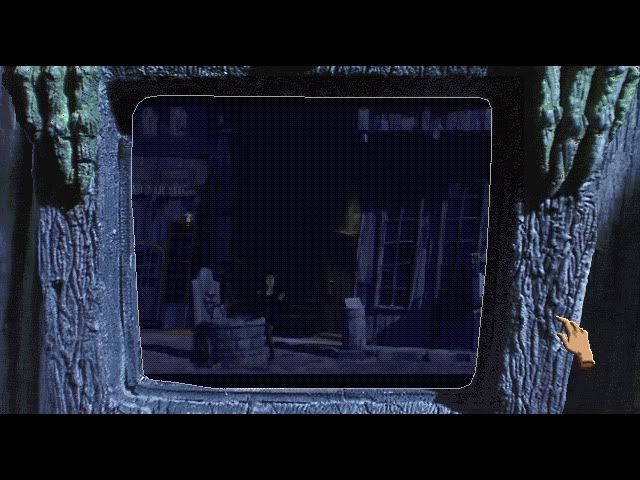 And dropped her mirror in the pool, but the low resolution makes it almost impossible to tell.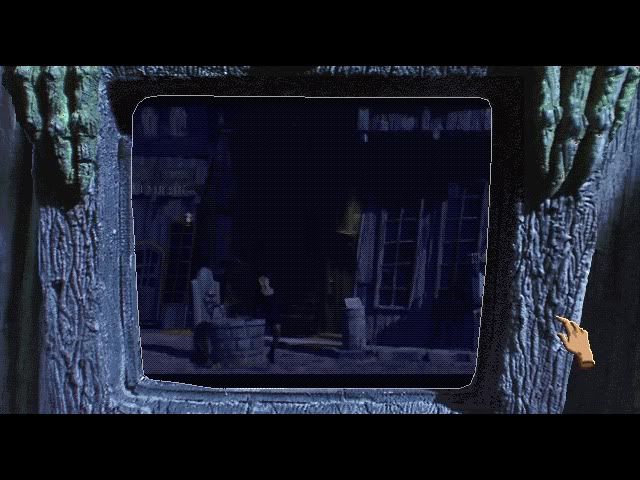 "Ohhhhohohohoh, hellooohohohoh, and welcome to Werewolf Village."
Nice to see a human face.
…Or, on a closer viewing, she looks more like another HorrorLand lackey…
"Did you know that 'werewolf' spelled backwards is…"
"…Flowerew?"
Wh-what?!
"Well, now ya do!"
Is this supposed to be the official welcome video? It's up to HorrorLand's standards, I guess – completely insane.
It's cut to somewhere I haven't been yet (but will be soon).
Spotted again. Perhaps she was bunking off and the camera crew had to chase her through the park to get her to do her segment.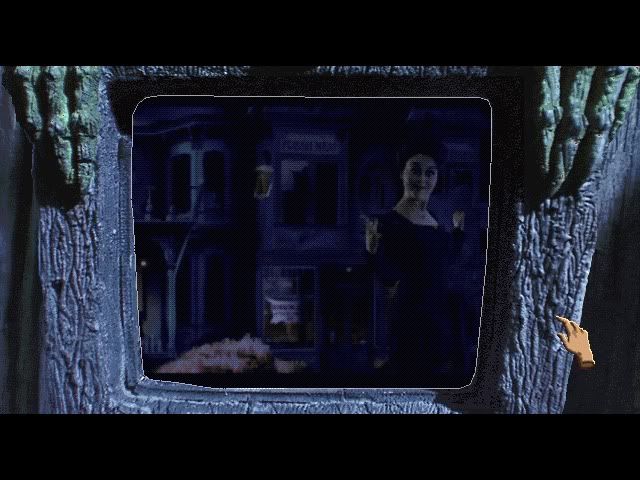 Don't throw it away! I'm sure the trash can monsters would like it!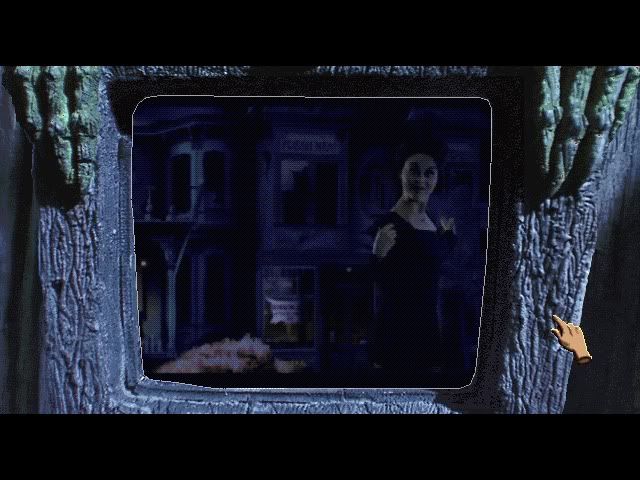 …I heard shattering glass when it landed?! I guess HorrorLand doesn't serve soft drinks – it serves hard drinks.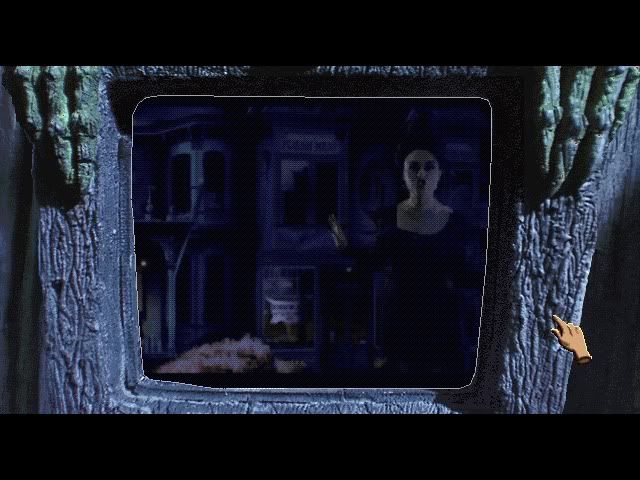 "While here at HorrorLand, be sure to visit our Opportunity Knocks gift shop, conveniently located in HorrorLand plaza. Ooh, scary."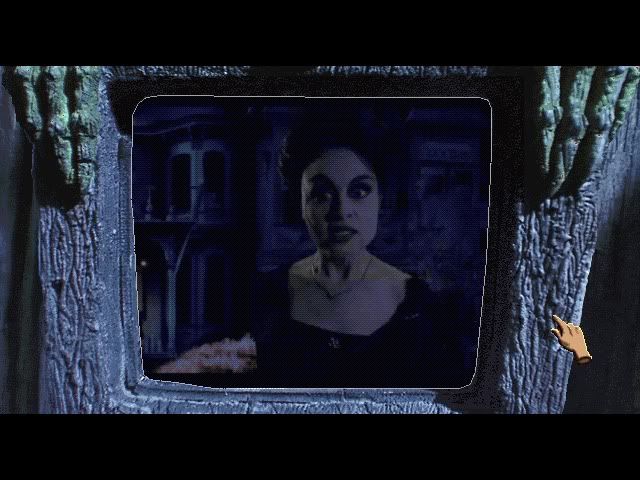 She looks unwell…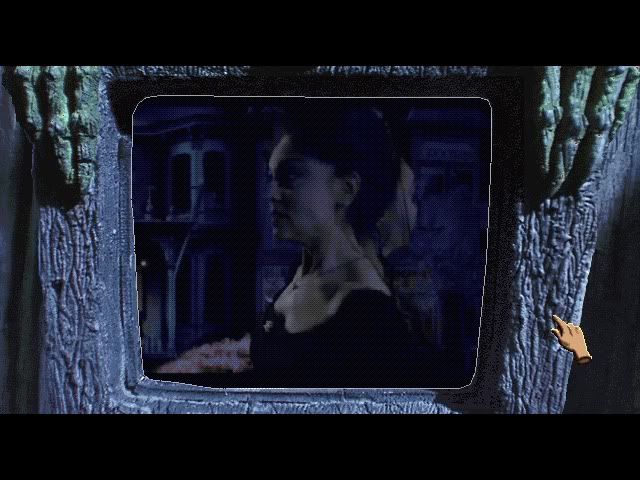 SHE HAS ANOTHER FACE ON HER BACK. The Heck, HorrorLand?
"Whether you select a Mummy's Hand Back-Scratcher, Werewolf Wine Glasses that really whine…"
"'Hey! I'm a cup, fill me up!'"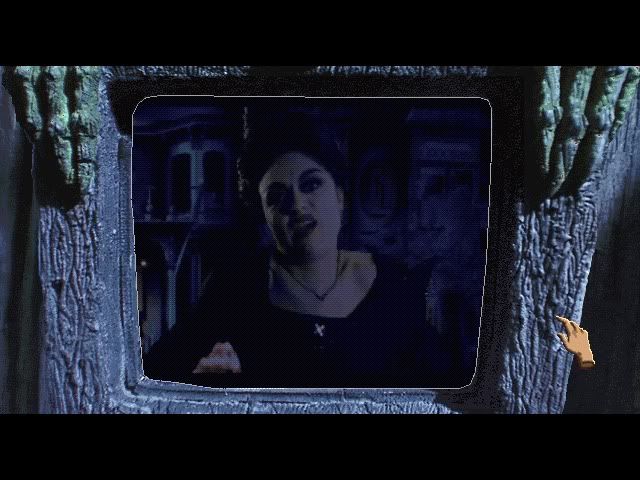 HorrorLand's souvenirs are so terrible that they're about to start a book series just about kids getting tormented by their free gifts. The second instalment is called
Little Shop of Hamsters
. Yes, really.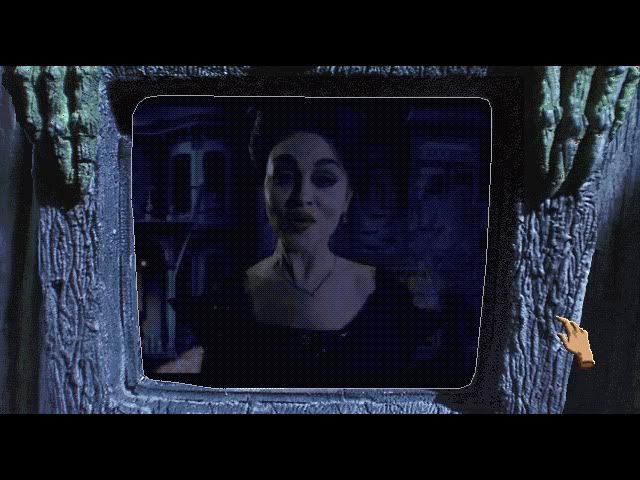 "…or any of our other countless souvenirs, you're sure to take home a keepsake you'll treasure forever…"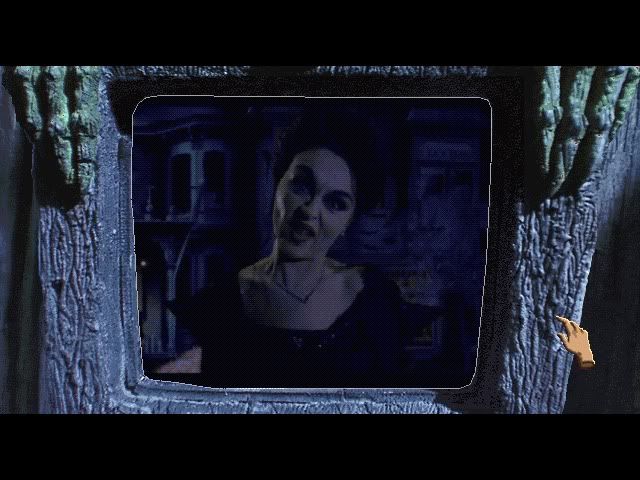 "IF YA LIVE THAT LONG!"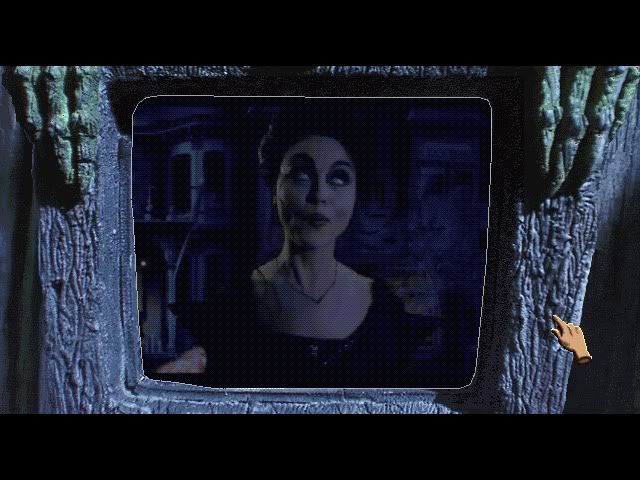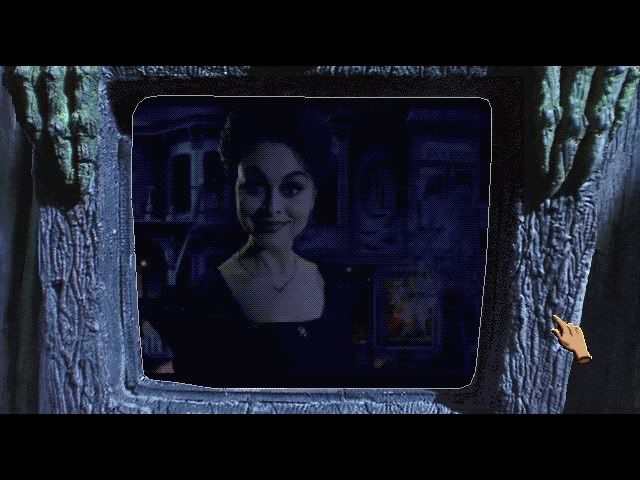 Then she did the face-flip thing again. That's it, I'm with Lizzy and getting out of here.
Oh good, that's the end – and here's a map! Now, where am I…
You shouldn't be here.
Tell it to Luke and Clay. Now, um… it looks like there are two ways out – one to HorrorLand Plaza, and one to the park entrance, but I have a nasty feeling the latter is that haunted set of portals by the werewolf cage. And I need to free Luke and Clay, too. Just so long as I don't end up in any of those other scary places… (Note: You don't, in fact, visit all those other scary places. Just the more detailed ones…)
And what's this.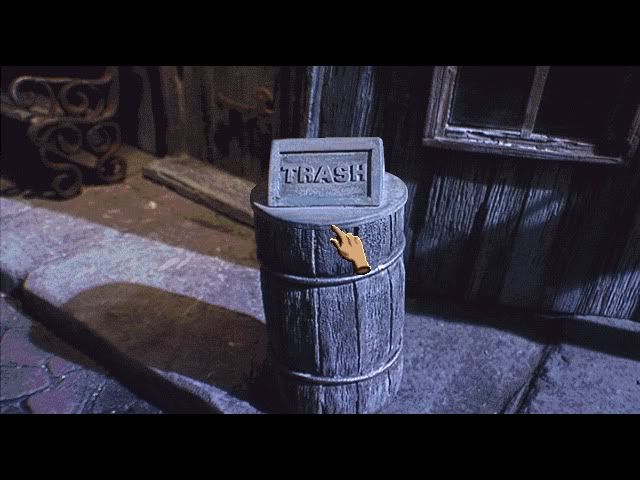 Another trash can.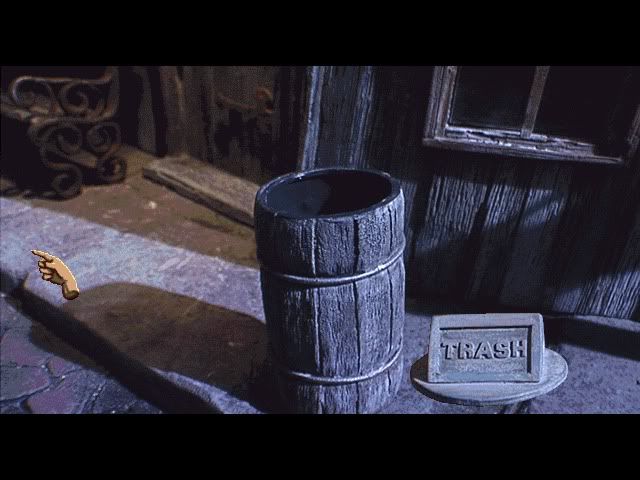 Nah, I learnt my lesson the first time. Wherever those tunnels lead and however many tokens are stuffed down there, it's not worth it.
Another free token! Nice.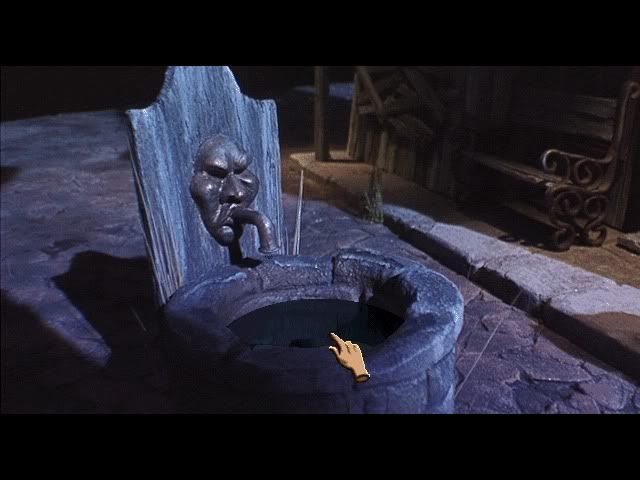 I wonder if there are more in the water…
Holy Hells!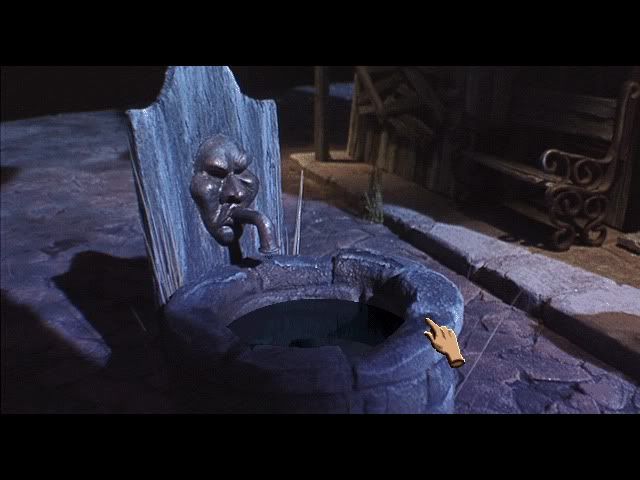 Even the water is scary in this crazy theme park! But can it be scarier than the fluoridisation debate?!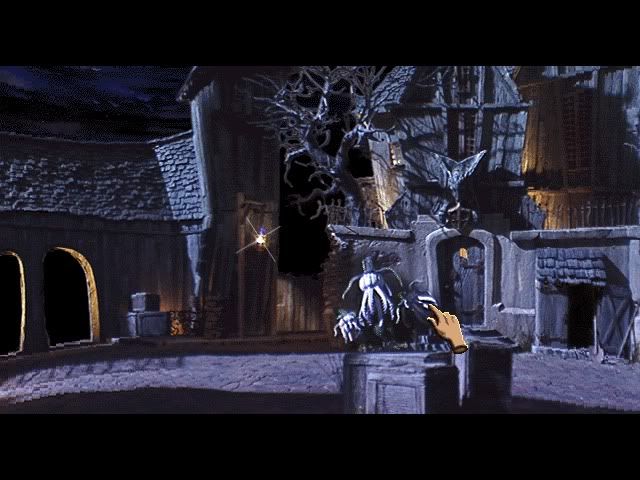 The sole home in Werewolf Village seems to have a flower arrangement set outside. How thoughtful.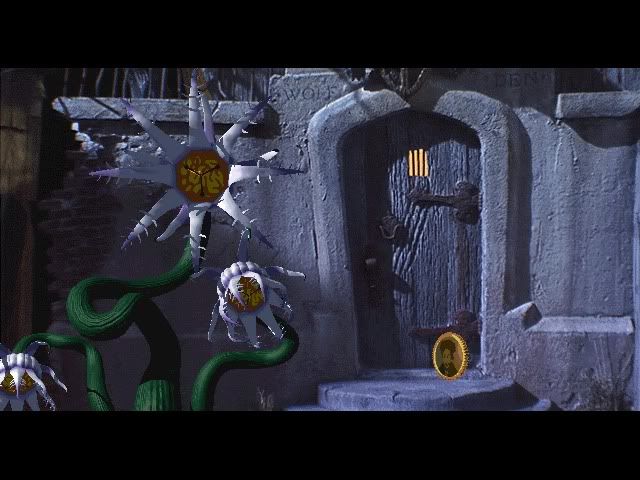 THEY ARE DEMON FLOWERS THAT KILL YOU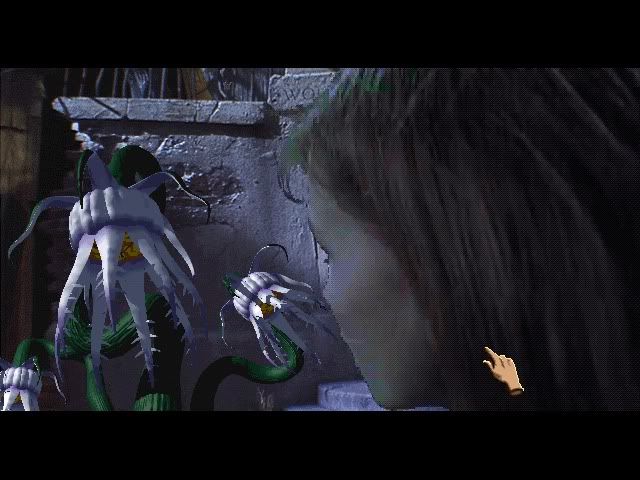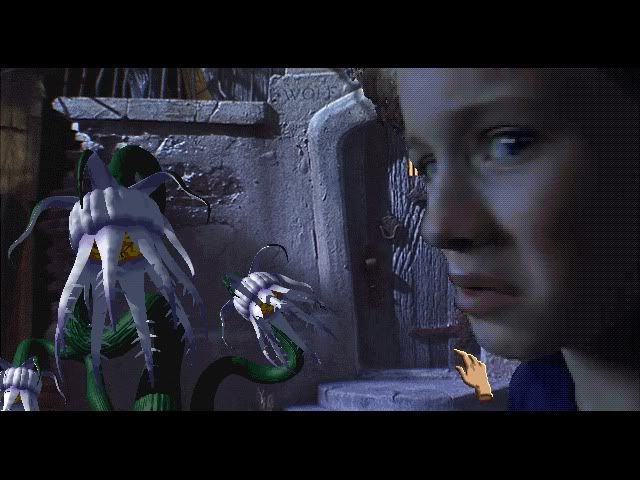 "Ew, sickening! Did you see that?"
Worse, Lizzy, I was on the receiving end of that. How did you not notice it stealing my tokens?!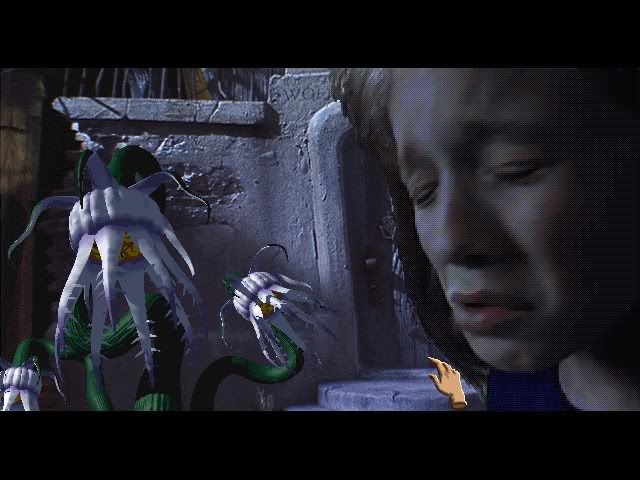 Haha, oh wow, she really hated seeing that.
"It even had gross little teeth! Oh, it's horrible."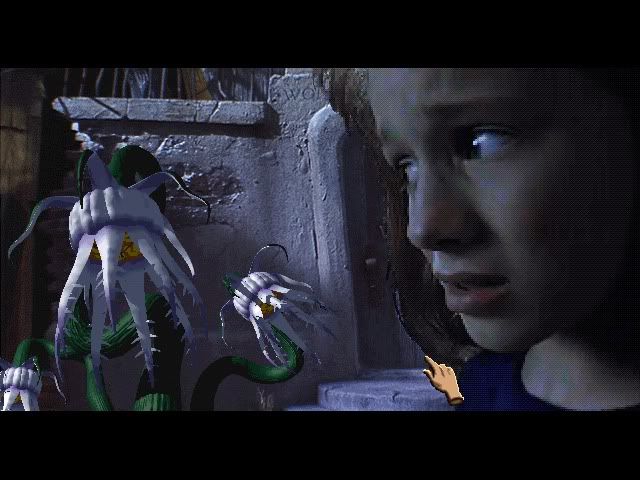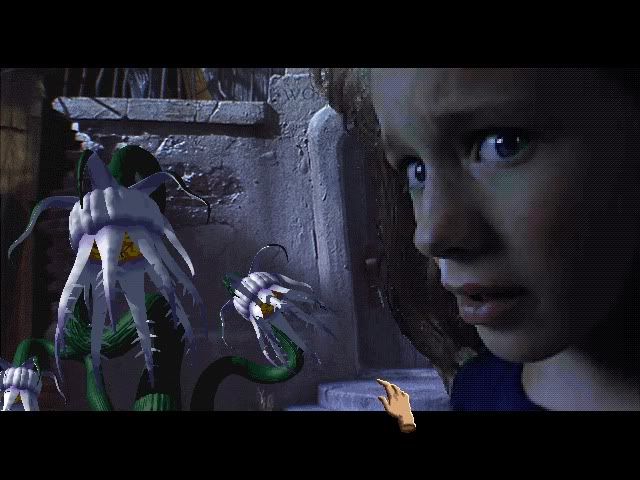 "…Are you still going to try and find a way to get by it?"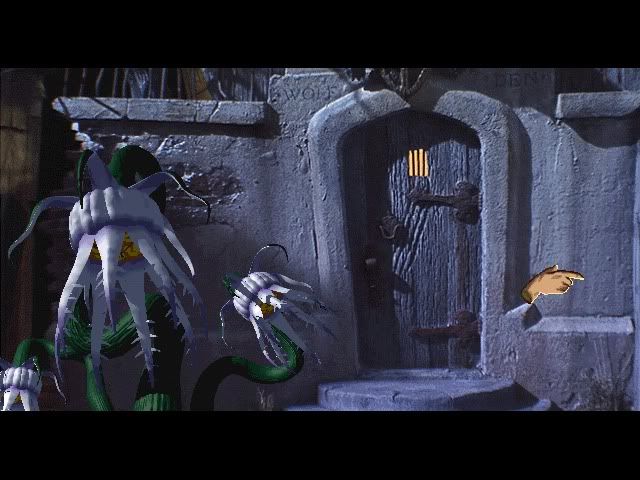 Well, I guess so… the right item could be anywhere. Let me think… it's kind of like a cross between one of those carnivorous plants and a guard-dog, so to get by it I need…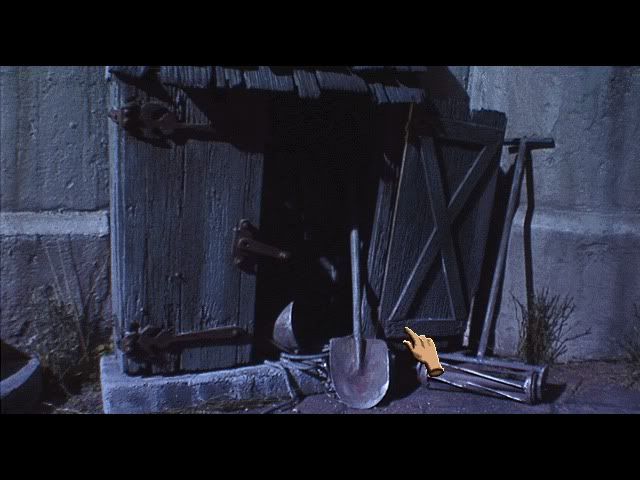 There was a toolbox just next to the flowers.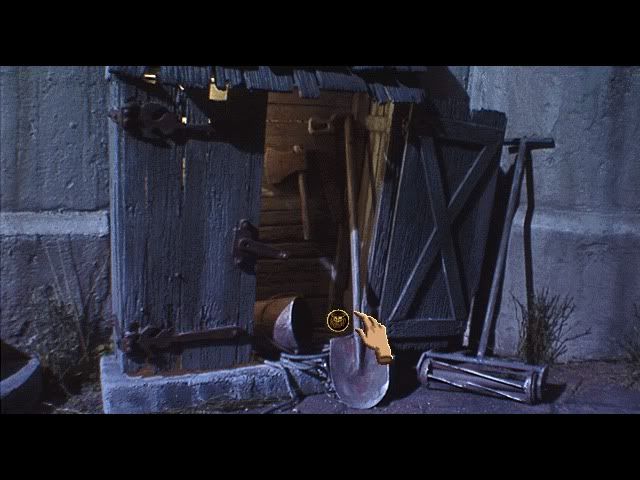 Tempting though it is to attack the flowers with an axe, I'm better off just taking the free token.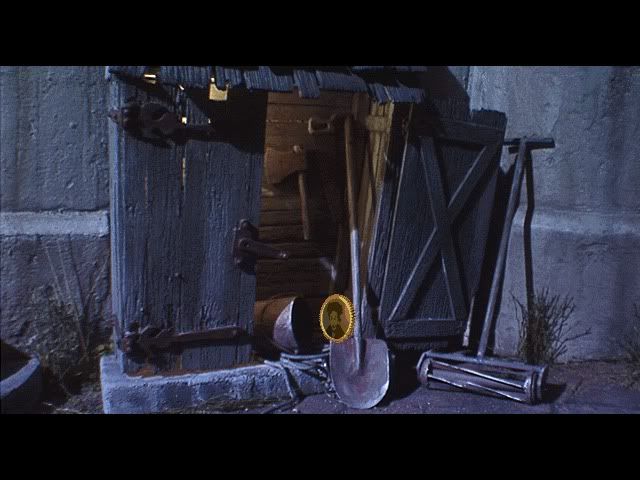 Go theft!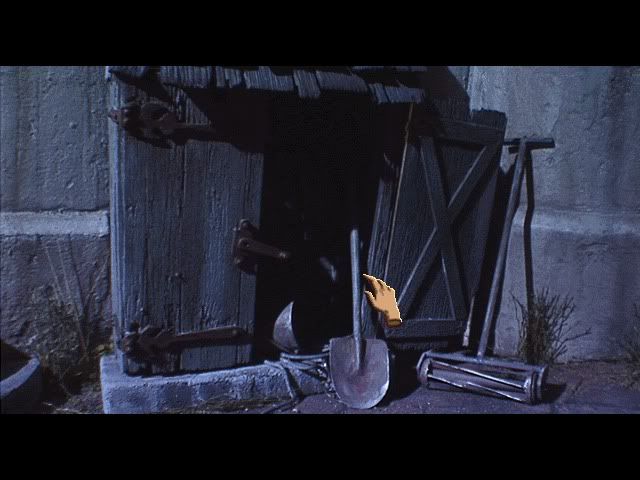 …Go non-wasteful use of electricity!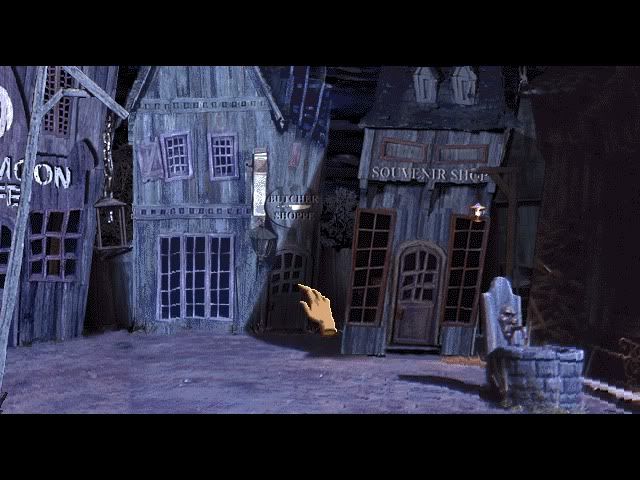 Next up we have the Full Moon Café, the Butcher, and the Souvenir Shop – the latter isn't actually visitable, so that cuts down the number of places I need to search…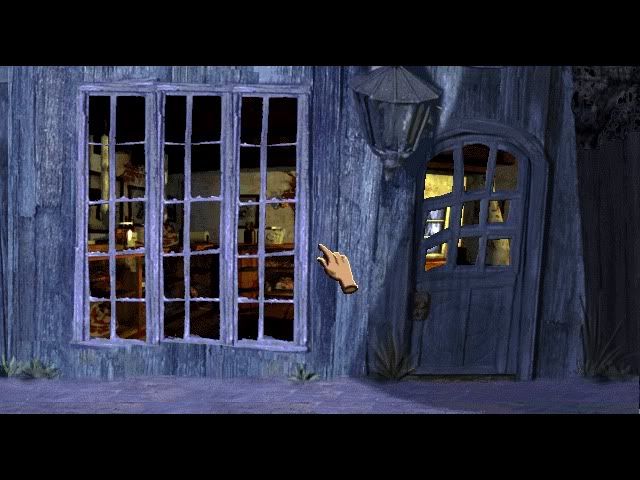 I'll come back to the café. It looks deserted in here… but the light's on…
It just occurred to me that this is probably the most likely place for a werewolf to go, but since it's tucked up in that cage for now, I should probably check this place out while it's relatively safe.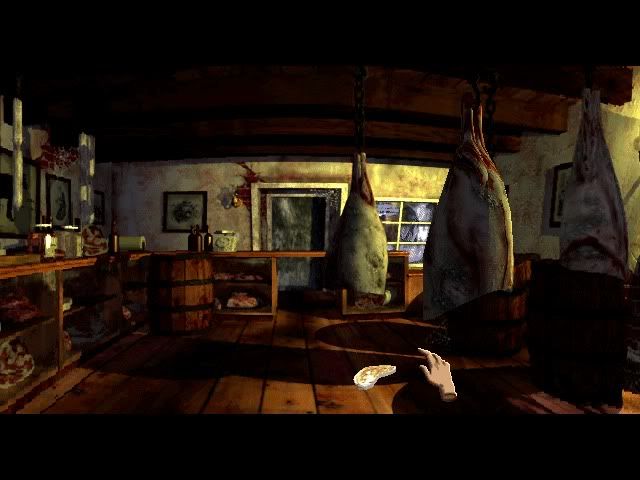 …It is some kind of haven for serial killers. There are slabs of meat on the floor and the whole place is surely spattered with blood.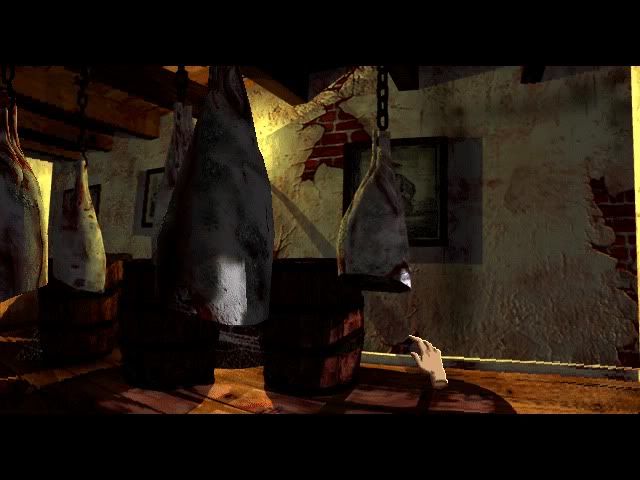 What are those huge hanging pieces of meat even from?!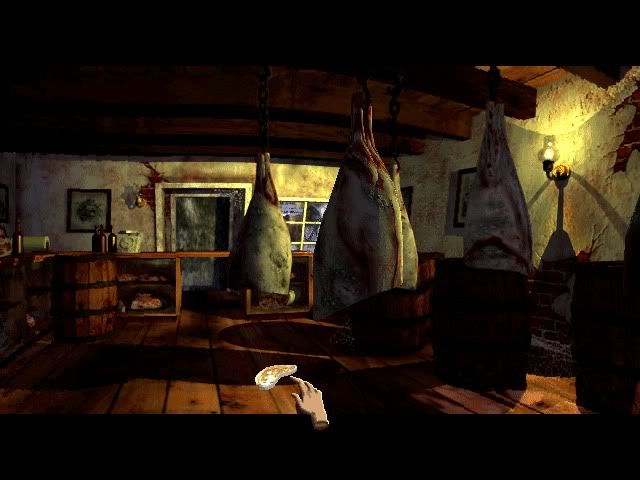 …And is that meat on the floor moving?
See, that is what I call disgusting. Lizzy was so repulsed that she didn't even follow me in here.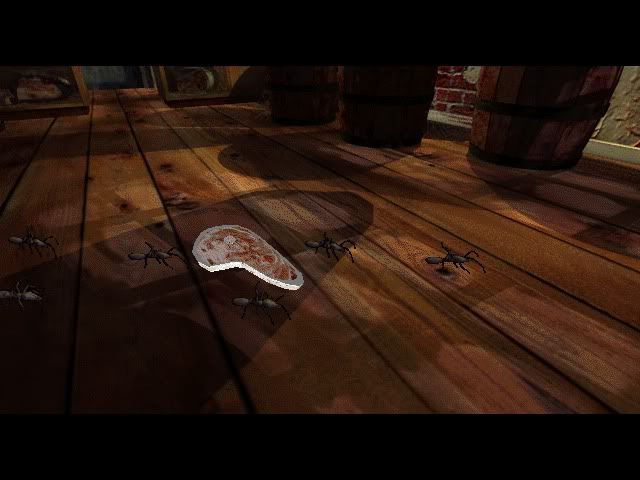 Yoink!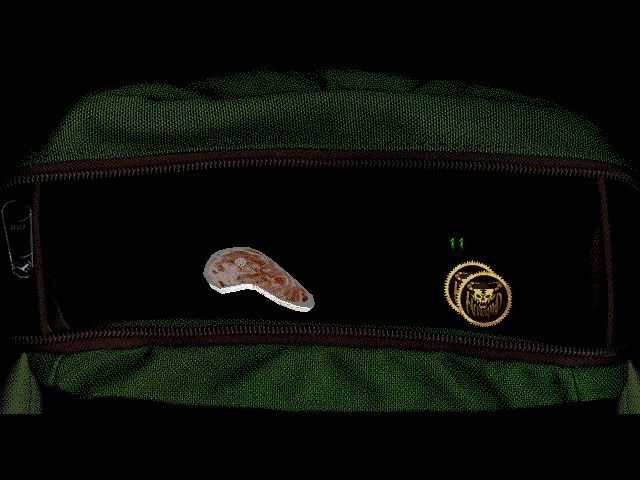 …My pouch is going to need washing so many times.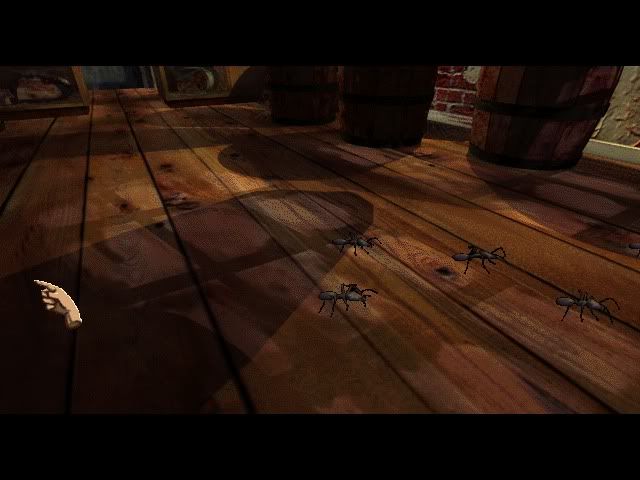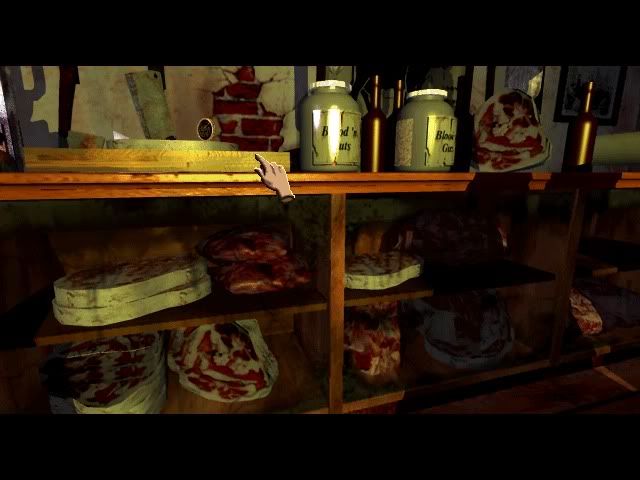 This isn't hygienic at all! I'd say something about health and safety, but the inspectors probably number among those hanging pieces of meat.
…I'm not even sure I have the strength to lift those enormous knives.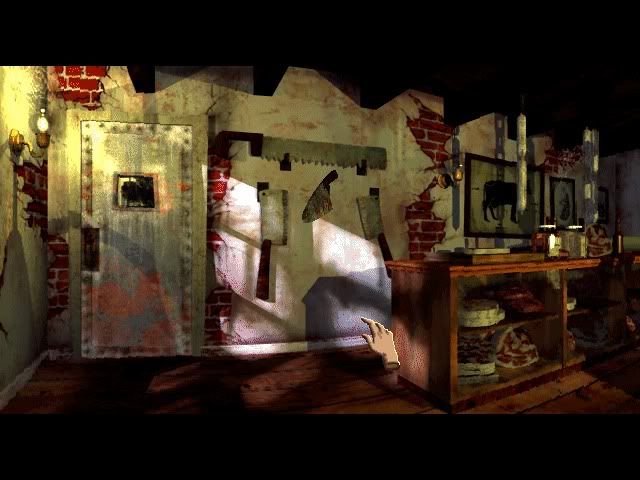 That one… it's hovering away from the wall!
The ghosts are aiming it at my faaaaaaaaaaaaace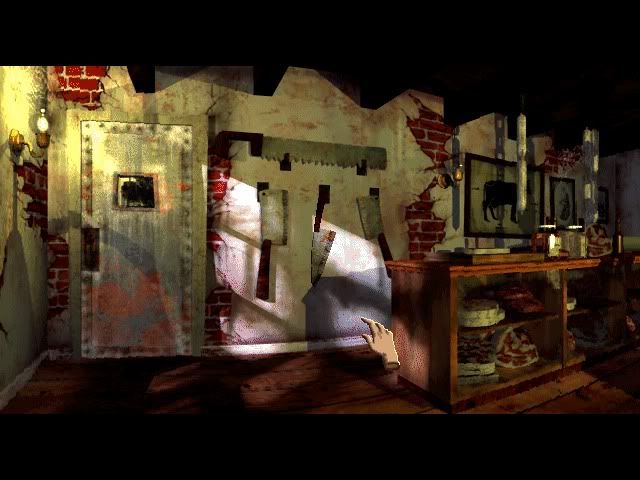 But it missed.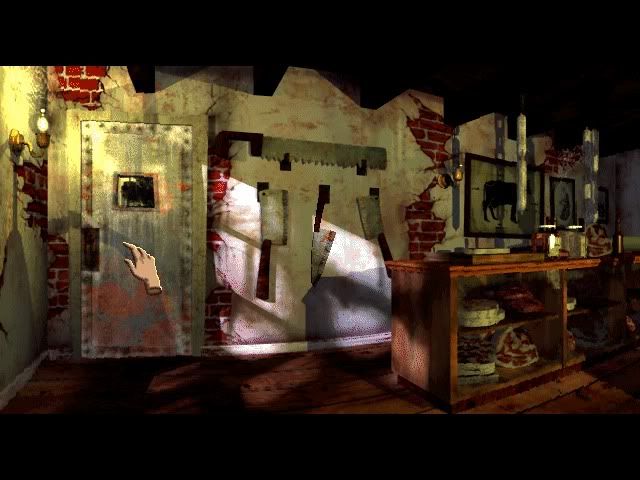 Say, what's this.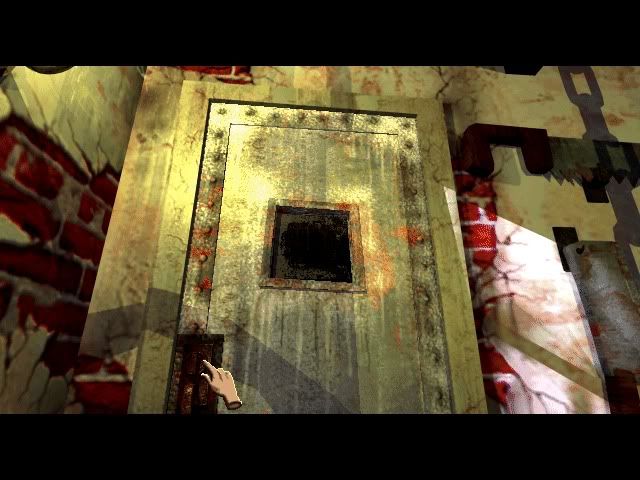 It is probably the dungeon where they keep the bodies.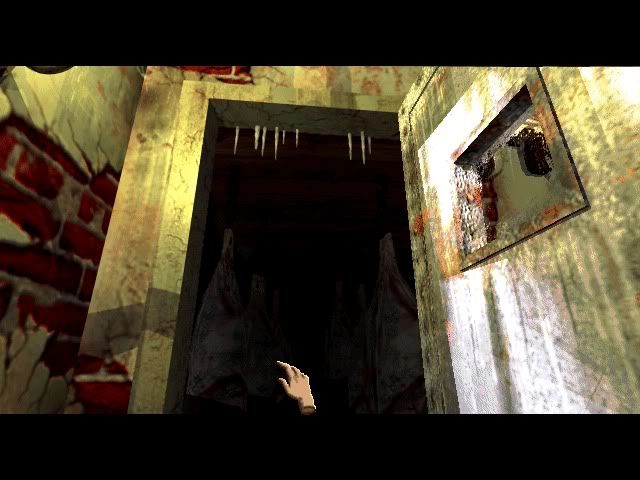 …I'm not going in there. I have limits.
Especially where weird darkness imps are concerned.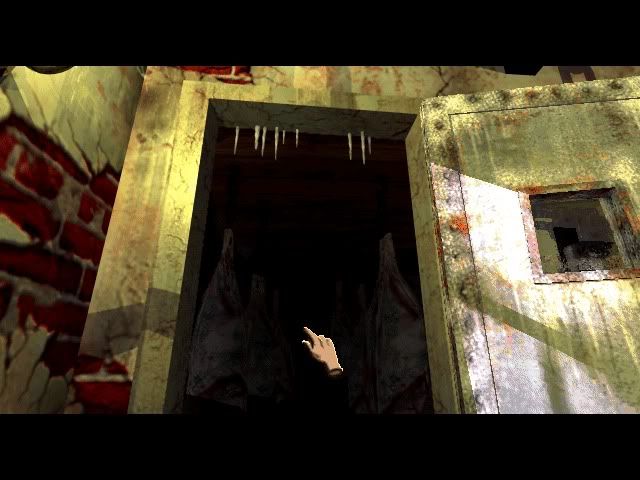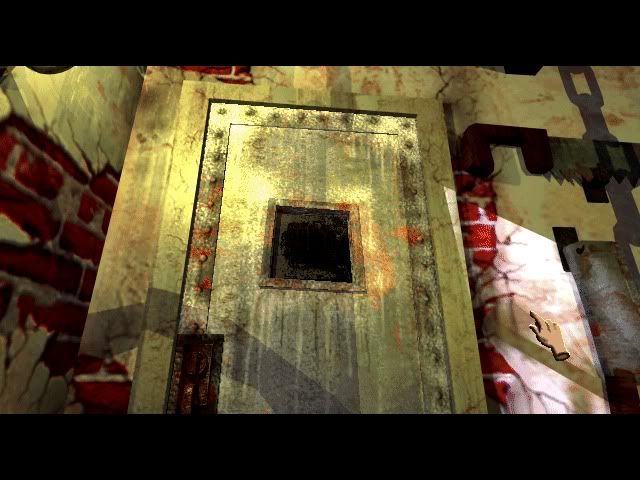 And may we never return here again.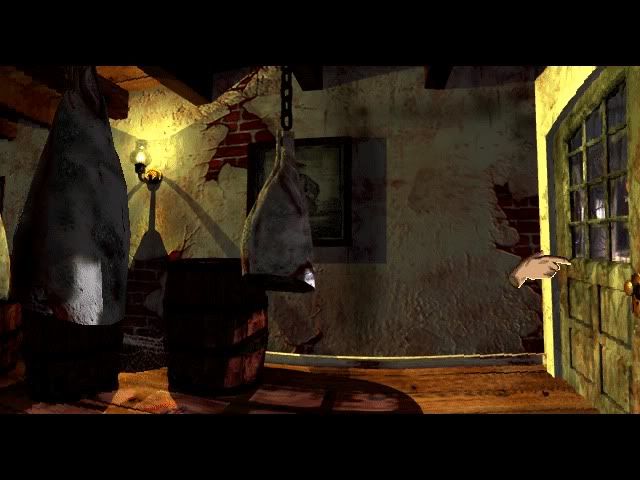 Not that I could possibly be hungry after that last visit, but in the interests of a complete search, I'll ransack the Full Moon Café.
Let's hope it's more tasteful.
Oh, very classy! This sort of décor wouldn't be out of place in – wait. Is that a… cockroach crawling on my screen?
Yeah, it is. Lower-centre. Hard to pick out, so I'll put it in my pouch to make it clearer, and to make the café cleaner.
Yes, with the meat.
It's certainly a very exotic place.
Full of tokens and roaches.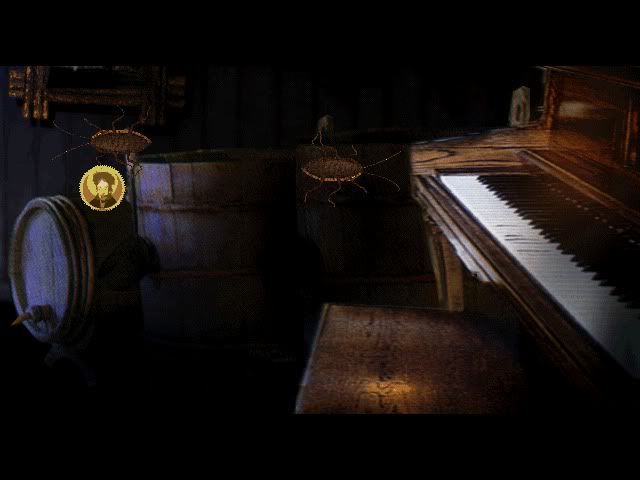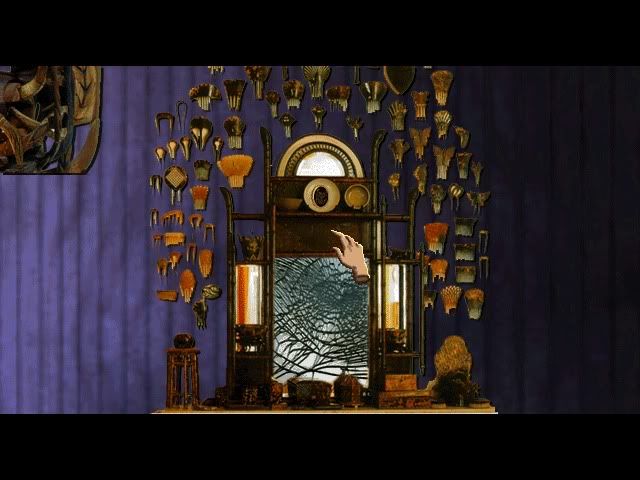 Cannibalism, insects, and literal baby-eating. Behind that distinguished façade lies the worst place in the world. Also, there's an Easter Egg here that I missed; if you click near the bottom of the screen you can find some chalk to write on the blackboard with.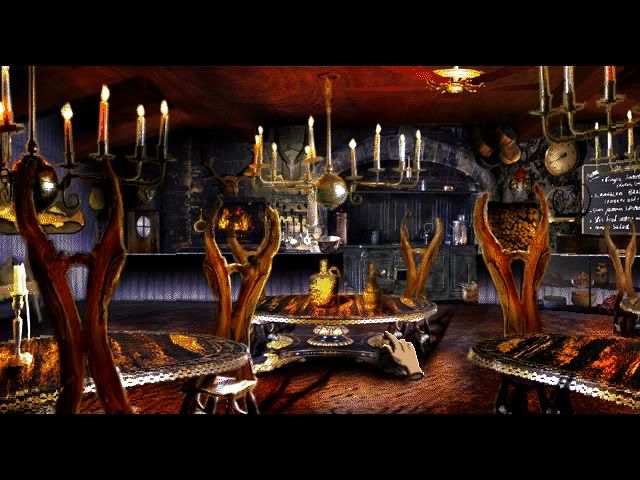 There's a pile of tokens here which I've handily covered with the cursor.
Cursor? Handily? Oh dear, that may have been a pun.
Aw, there's a roach and a token on the fish, too.
And what historical-revisionist monstrosity is this?!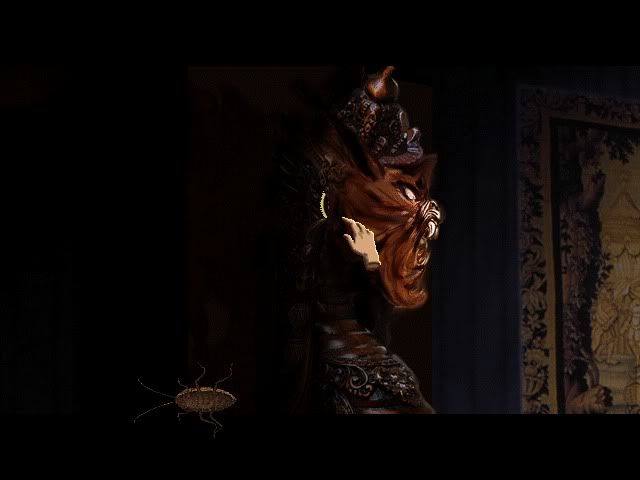 And presto, sir, the coin was in your ear all along!
We have now searched everywhere in the main Werewolf Village hub except for the house with the crazed chlorophyll caretakers, and found nothing of much practical use.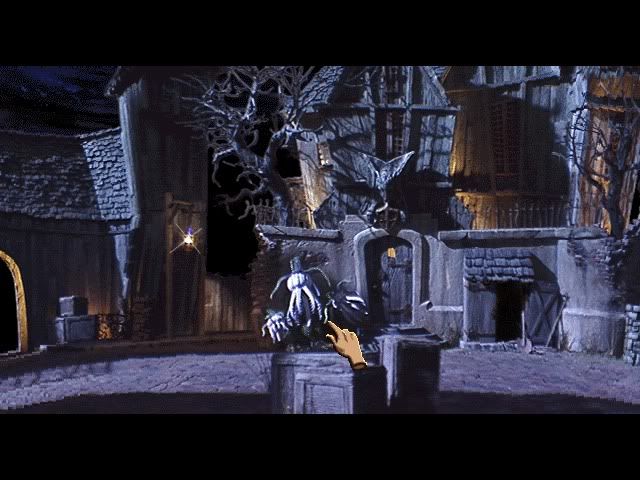 We are, however, now in a position to enter the mansion.
To be continued…
Last time, me and Lizzy were mysteriously transported to HorrorLand… it's pretty worrying, and will only get more so. But first and foremost, we have to figure out how to play this game at all.